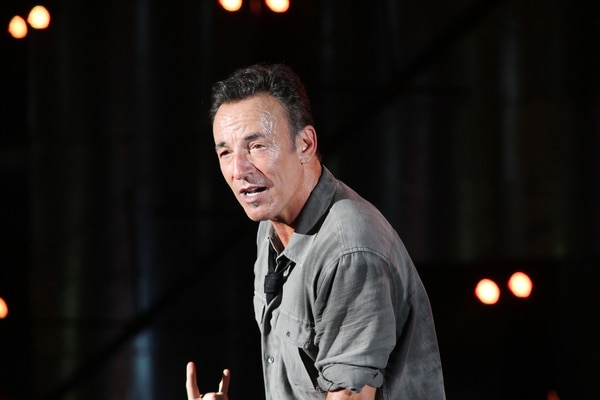 Bruce Springsteen has told fans they will see the return of the E Street Band "pretty soon."
On Wednesday Springsteen phoned the E Street Radio show and spoke about his future plans to tour with his iconic backing band.
"We'll be out there," he said. "We hoped to be out there this year, but I just didn't have the confidence or want to take the risk for my audience that it was going to be OK. We put it off a little while. But we're working on plans to get it all together now, so you'll be seeing the E Street Band pretty soon."
Springsteen had been set to tour with the E Street Band in 2020 to support the release of their album Letter to You, but the tour was cancelled by the pandemic.
The Boss's last appearance with the band came in December 2020 when they appeared on US comedy show Saturday Night Live. That spot saw them perform Ghosts and I'll See You in My Dreams. They had previously appeared on SNL in December 2015 when they performed Meet Me in the City and The Ties That Bind before joining Paul McCartney to play Santa Claus Is Comin' to Town with the SNL cast.
Plans for a 2022 Springsteen and the E Street Band tour were drawn up last year, and posters even appeared in European cities, before the Omicron wave struck and the tour was cancelled.
Springsteen's most recent tour with the E Street Band was as far back as 2017 when they toured Australia and New Zealand. The period since is the longest Springsteen has gone without touring with the E Street Band since they were reformed in 1999.
Last week actress Courteney Cox spoke with Howard Stern about her appearance in Springsteen's Dancing in the Dark video.
"Bruce Springsteen is such an amazing… God, he's so incredible," she said. "I love that song. I get a little embarrassed because I do feel like when I watch the video, when I see it…I mean, God. Did you see my dance? It was pathetic. I'm not a bad dancer, but that was horrible. I was so nervous."
Cox went on to speak about auditioning for Brian de Palma, who directed the video.
"I thought I was in the wrong place," she said. "I was like, 'I don't know what they're doing but I can't even bend my leg. This is it.' I went into Brian De Palma's office. He put on the music and said, 'Well, you dance.' And I thought, 'Right now? Here? In front of you? Just the two of us?' I think that's why I got it because I was like, Okay!' I think that's what they wanted, a fan that just couldn't believe it."