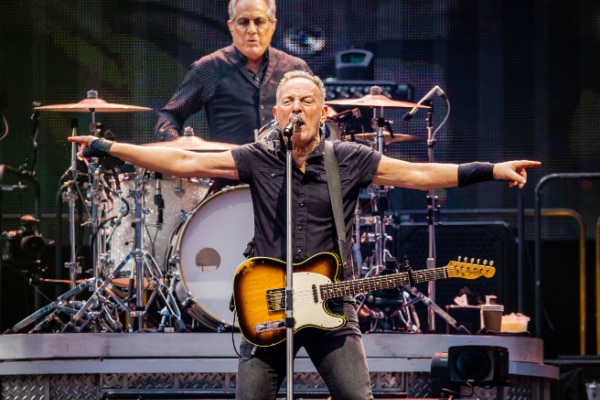 Would you like to listen to the article instead of reading it?
Over the weekend, the first official Bruce Springsteen Day was held to mark the singer's 74th birthday.
The event which was marked on Saturday (September 23), was held in Springsteen's home town of New Jersey.
News regarding this event was announced by Governor of Garden State Phil Murphy at the inaugural American Music Honours earlier this year.
"one of the most recognisable, iconic and influential musicians"
Paying tribute to Springsteen at the time, Murphy said this, "Bruce Springsteen is one of the most recognisable, iconic and influential musicians – and New Jerseyans – of all time".
"It is important that we recognise Bruce for all he has done and will continue to do, from giving us the gift of his music to lending his time to the causes close to his heart, including making the Archives and Center for American Music a repository that will inspire tomorrow's songwriters and singers", Murphy continued.
"We thank him for showing the world what it means to live our New Jersey values. I am both honoured and proud to declare his birthday Bruce Springsteen Day in New Jersey".
The official Instagram account of Bruce Springsteen's also marked the occasion, sharing the music video from his 2008 track 'Girls In Their Summer Clothes'.
A message also read, "Not only is it Bruce Springsteen Day in N.J., but this year, Bruce's birthday also coincides with the last day of summer. As the season's last warm breeze blows down E Street, here's one to play it out. Happy Birthday, Bruce!".
Being such a popular figure in the music industry, it is no surprise to read that several stars wished The Boss many Happy Returns.
Stars also include Ronnie Wood, Tom Morello and Slash.
Check them out below.
Happy 74th birthday to the great Mr. Bruce @springsteen! pic.twitter.com/0N20NlH7LQ

— Tom Morello (@tmorello) September 23, 2023
Happy Birthday #BruceSpringsteen iiii]; )'https://t.co/4Gn2ZZqYTJ

— Slash (@Slash) September 23, 2023
Earlier this month, Bruce Springsteen was also forced to call off all tour dates scheduled for this month, having been treated for peptic ulcer symptoms.
You can also find out more on this from Nova here.