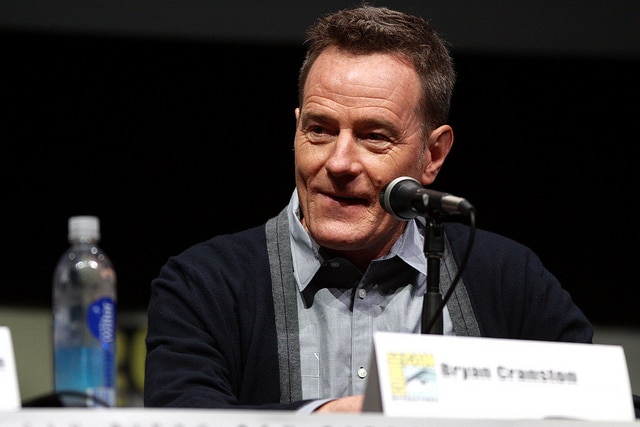 Breaking Bad star, Bryan Cranston, appeared on Good Morning Britain this morning giving fans a laugh as he swore on live television.
Cranston, known for his famous portrayal of the one and only hard-man Walter White in Breaking Bad, showed he is a bit of a rebel himself as he went on to say the word "s***e" on morning television.
Presenter Kate Garraway asked the 61-year-old actor if he was constantly approached by fans of breaking bad, going on to reveal that he had been "mobbed" in the green room before the show.
He responded saying "No, some people come up to me and say, 'I've seen your work and you've done loads and loads of s***e, but now you've done Breaking Bad and other things…' Those people you just have to dismiss."
What was even better about this "incident" was that it was followed by a discussion on whether people should swear in front of their children or not. Fans of the Malcolm In The Middle star were delighted by Cranston's little "slip up" flooding twitter with tweets of praise for him.
https://twitter.com/cle_robo/status/890828141731729408
Bryan Cranston saying 'Shite' at 7:53am live on #GMB has made my day already

— Nath (@nath_hirst) July 28, 2017
Hahaha did @BryanCranston say shite on morning tv. Hero

— demi c. (@demicolleen) July 28, 2017
Bryan played Malcom's dad Hal in the comedy show between 2000 and 2006 and has had countless other roles too. But it's Breaking Bad that people really got behind and it's become somewhat of a cult obsession.
Later in the show, Bryan Cranston opened up about the huge success of Breaking Bad saying: "I think it was when the traffic signs that had arrows of where we're supposed to park our cars when we're on location and it said 'Breaking Bad', when those Breaking Bad signs were being stolen… why would they steal the signs?
"And that's like, something's happening… it had this effect on people."
The actor also discussed his latest film, Wakefield, which sees him play a married man who vanishes suddenly, but stays hidden in the background as he watches his family from afar. He stars alongside actress Jennifer Garner and describing his character Cranston told GMB: "Howard Wakefield pushes the pause button (on life), but he can't unstick it."
Well Bryan Craston, you have certainly made our Friday, what an icon!
Photo Cred: Gage Skidmore
By Charlotte Dillon