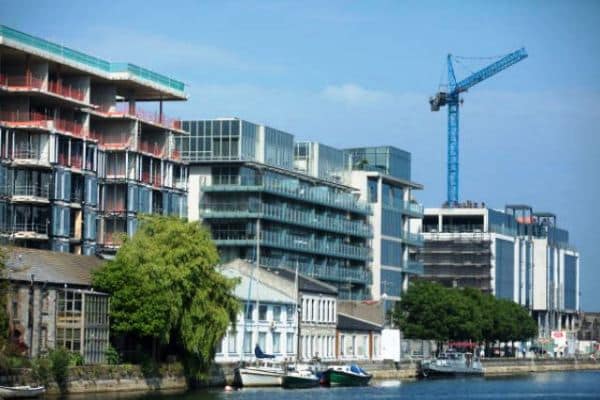 A billion and a half euros worth of new apartments could soon be fastracked for Dublin with a significant spike in interest in build-to-rent schemes.
The fast-track strategic housing development planning system, incepted in 2017, is being used to great effect by interested parties, so much so that its swamping An Bord Pleanala.
In fact the planning board is reported to have received 24 fast-track applications in the first quarter of 2019, compared with 39 in all of last year according to the Times Ireland edition.
Between January and March six SHD projects received a green light, totalling 707 houses, 978 apartments and 289 student bed spaces, which means its well on course to overtake all of last year's figures comfortably.
Oxley Holdings, a Singapore group is in talks with An Bord Pleanala about a huge 697 build-to-rent apartment development beside Connolly railway station. Oxley is the development partner for the five-acre site off Sheriff Street where there's plans for offices, shops and a 500-bedroom hotel.
Johnny Ronan's Spencer Place Development Company is in talks for the construction of 580 apartments in North Docks. Andrew and Maurice Gillick's Platinum Land have also lodged plans for 495 build-to-rent apartments at the former Chivers factory site in Coolock.
An Bord Pleanala also gave the thumbs up to three large-scale apartment schemes, including plans by Marlet for 438 apartments and more than 400 student accommodation units on the Belgard Road in Tallaght.
Power Scaffolding Supplies lodged plans to build 345 apartments also on the Belgard Road. Plans were also approved for builder Brian Durkan's 265 apartment plans on the old Dulux paint factory site in Drimnagh, while there's plans by US firm Hines for 184 apartments, duplexes and houses in Cherrywood.
Companies linked to former bankrupt developer Bernard McNamara also sought and received permission for homes in Donabate as well as for apartments in Santry.
Park Developments aims to add almost 200 more units at its Clay Farm scheme in south Dublin and 144 apartments in Sutton, north Dublin.
Glenveagh Properties, Kennedy Wilson with Ires Reit and Bartra Capital Property are just some of the mny other developers with build-to-rent schemes ongoing in some form at present.