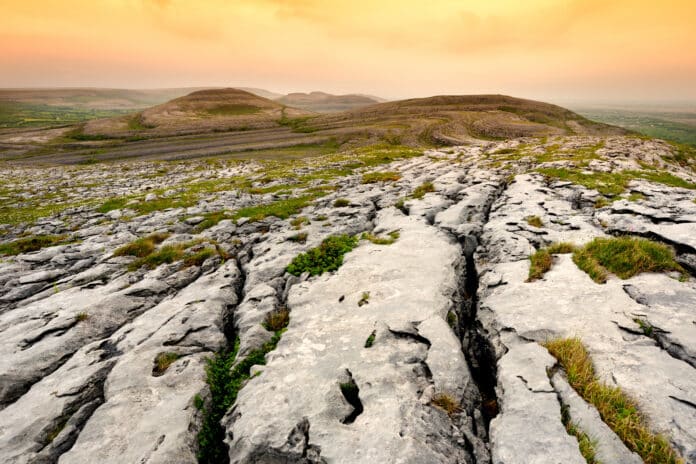 Lonely Planet has named The Burren Ecotourism Network as one of the world's top 30 places, people and tourism projects for 2021 – listing it as one of its 'Best In Travel' award winners. Normally, Lonely Planet's 'Best In Travel' is a list of must-see places across the world. 2020 and the coronavirus epidemic forced a change in policy, however. With people forced to change their travel habits, Lonely Planet decided to change its own.
Noirín Hegarty of Lonely Planet said: "We focused on how people travel now: outdoor; in family groups; purposefully; with careful attention to the communities they will explore".
The Burren Ecotourism Network (B.E.N.) certainly fits that bill.  Lonely Planet says that the group has "transformed Ireland's Burren and Cliffs of Moher geopark into a global leader for sustainable tourism". Established a decade ago, the group is a network of small businesses and community groups from across the wider Burren area. They came together to work towards making a sustainable and eco-friendly living out of tourism in the area.
All members involved in the network subscribe to the region's code of sustainability – slow tourism, working with the local community and greater responsibility for a sustainable future. Each business measures waste output, water and energy consumption and they are encouraged to reduce all of these.
The B.E.N's CEO Jarlath O'Dwyer told the Irish Independent: "We're absolutely thrilled because it's an acknowledgement of over a decade's work. And that's ten years through thick and thin, where people had to put in a lot of their own time and resources, hold on to their beliefs and stay motivated."
O'Dwyer said that the Burren saw a "very good" 12 weeks of indigenous tourism this year. "They were a bit leaner, they worked harder, they had to spend on reopening, but they had huge support from the Irish market".
Tourism Ireland CEO Niall Gibbons said: "I would like to congratulate the Burren Ecotourism Network on being named a 'Best Community Tourism Project' in Lonely Planet's prestigious Best in Travel 2021. It is a well-deserved accolade, recognising all of their hard work to become a global leader for sustainable tourism".
"I would also like to thank Lonely Planet for the wonderful support they have shown the island of Ireland over the years. In what has been a devastating year for travel and tourism, this accolade is really good news and will surely inspire travellers everywhere to put the Burren, Co Clare and the island of Ireland on their holiday wish-list – when the time is right," Mr Gibbons said.
Minister for Tourism, Culture, Arts, Gaeltacht, Sport and Media, Catherine Martin TD said: I would like to congratulate the Burren Ecotourism Network on being recognised as one of the best Community Tourism Projects in Lonely Planet's Best in Travel 2021″.
The network includes the Ailwee Caves, Dunguaire Castle, the Cliffs of Moher Visitor Centre, the Falls Hotel in Ennistymon and small businesses like Linalla Ice Cream, St Tola Goat Farm and Wild Kitchen, to name but a few.
The B.E.N's stated objective is to establish the Burren "as a premier internationally-recognised sustainable tourism region ensuring the future economic and social growth and sustainable development of its communities, environment and heritage."
With this Lonely Planet award the Co Clare gang seem to have achieved their aims.