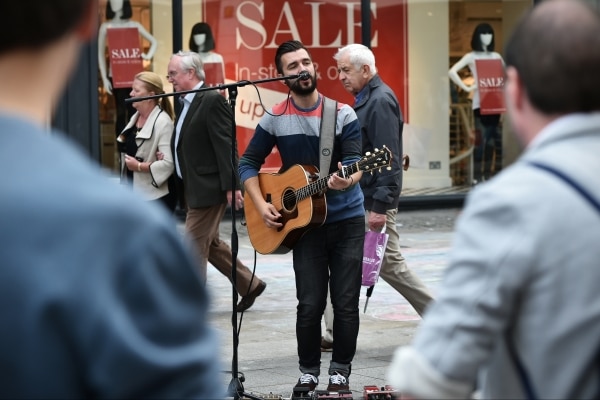 It's claimed that new by-laws keeping buskers in Dublin on the right note are working. Figures from the City Council show nine street performers were fined a total of €600 last year. The charges were given out for things like being too noisy, or playing the same track repeatedly.
Dublin City Council fined nine buskers €75 for breaking noise levels last year. Nine street performers were fined €75 each for playing too loud while Dublin City Council took in €600 in total from buskers who broke the rules in 2017.
Out of all the charges handed out, only one was appealed with no cases ever making it to court. Under council rules, buskers are not allowed to perform without applying for a permit first while those who want to use amplifiers must get additional permission.
Dublin Pride theme set to send message to Pope Francis ahead of Ireland visit. Performing licences start at €30 for the year while people looking to use amps must pay double – visitors looking to perform on a one-time basis must pay €10.
Noise levels in the "immediate vicinity" are not allowed to go above 80 decibels while certain parts of town have other restrictions. Temple Bar has a slightly lower level of 75 decibels and busking is not allowed at all in certain parts while by-laws introduced in 2017 ban the use of backing tracks with penalties for obstructions or making noise late at night.
The new regulations means performers are supposed to stop if a crowd gathers and blocks the street.
Labour Councillor Dermot Lacey explains why the fines were introduced in the first place: "There was an element of sort of single song merchants, of people who were standing at the same spot all the time with you know at most two songs. There were levels of noise that were unacceptable if you were working in the area or indeed living in the area and the guidelines and bylaws were an effort to try and balance a whole of conflicting rights and it seems to me looking at this report that they're largely working."