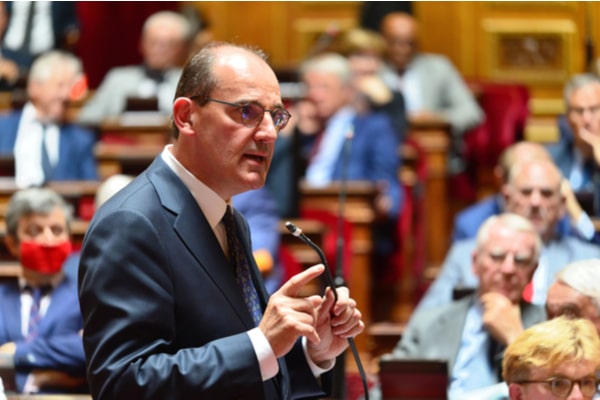 The Prime Minister of France has announced a month-long lockdown for 16 regions of France, including its capital, Paris. Jean Castex said the new lockdown will be less restrictive than those last March and November, and the nationwide nightly curfew will be moved back an hour to 7pm local time (6pm GMT).
Schools are to remain open and outdoor activities will be permitted within a 10k radius of a person's home. Castex revealed that essential goods shops, including bookstores, are also set to remain open in a bid to uphold the economy. However, inter-regional travel will not be permitted, and non-essential shops will be forced to keep their doors closed to customers.
It comes as France on Thursday reported a further 34,998 cases of COVID-19, down slightly from the more than 38,000 new infections the day before. Another 268 people have also died, bringing the country's total fatality toll to 91,679.
Castex told reporters that they are "adopting a third way, a way that should allow braking [of the epidemic] without locking [people] up". France has recorded more than 35,000 new infections within the past 24 hours, with 1,200 people in intensive care in the Paris region alone. Castex said a third wave of infections was looking increasingly likely for the country, as COVID cases continue to soar.
Health Minister Olivier Véran said the situation in Paris is particularly worrying with 1,200 people in intensive care, more than at the peak of the second wave in November. The other regions affected by the new measures include the Hauts-de-France region of northeast France, which covers the city of Lille. French authorities had previously gone to great lengths to avoid reimposing the strictest measures, having relied upon weekend lockdowns and nightly curfews instead.
Castex said forms will still need to be filled to justify a person's journey, although they did relax the nationwide curfew to 7pm to account for the longer days. The lockdown comes as France is set to resume rolling out the AstraZeneca vaccine, following an investigation into reports of blood clots. The European Union's drug watchdog said it is still convinced the benefits of the AstraZeneca vaccine outweigh the risks.
Castex said he will receive the vaccine on Friday afternoon "to show that we can have complete confidence in it. The AstraZeneca COVID-19 vaccine is effective, as underlined by the European regulator. It only has relatively rare side effects… it has a positive risk/reward ratio".
Director of the European Medicines Agency, Emer Cooke said the watchdog could not definitively rule out a link between blood clot incidents and the vaccine. In agreement with Castex, she said the "clear" conclusion was that the benefits in protecting people from the risk of death or hospitalisation outweighs the possible risks. At a briefing, Cooke said AstraZeneca "is a safe and effective vaccine" and that she would be vaccinated tomorrow, "if it were me".
Meanwhile in Ireland, tough COVID restrictions could remain in place, until June. The National Public Health Emergency Team have said there needs to be a cautious approach to easing restrictions over the next few months, in order to avoid a fourth wave. It comes as 582 new cases of the virus were confirmed yesterday, while there was no additional deaths.