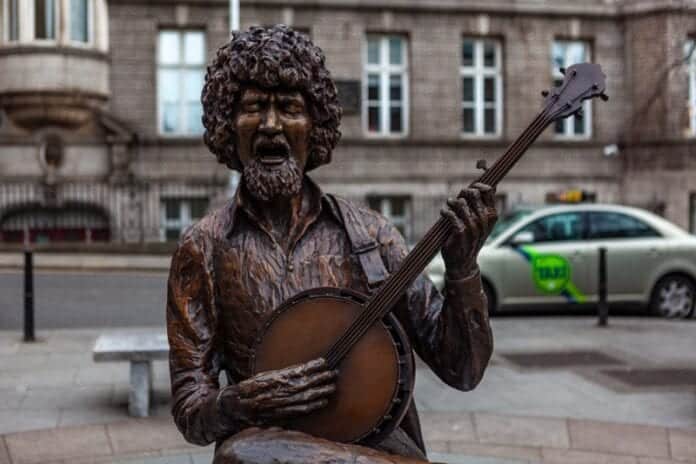 The Director of Public Prosecutions (DPP) have dropped charges against a man who was accused of graffiting a Luke Kelly statue in Dublin.
Michael Dunne, with an address on Sean McDermott Street in Dublin was accused of of criminal damage on the Luke Kelly statue on South King Street on June 23, 2020.
Two statues of Luke Kelly were unveiled in 2019 and the other statue located on Guild Street, near where the singer grew up on Dublin's northside has been vandalised on many occasions.
The case had been listed at Dublin District Court for progress to be made but Mr Dunne was not required to attend.
Last month, the court heard that a direction from the DPP was received but the investigating garda was appealing that direction.
Judge Miriam Walsh was told today the DPP has directed that the matter was to be withdrawn, and the case was dropped.
At a previous hearing, garda Sean Scully told the court that CCTV footage had been obtained.
There was 19 clips showing a cyclist crossing the city from Sheriff Street, over the Samuel Beckett Bridge and heading to South King Street.
The cyclist was accused of throwing a "large amount of paint over the statue".
Defence solicitor Jenny McGeever said her client did not have a bicycle and the Gardaí confirmed that no bicycle had been obtained in relation to the incident.
Michael Dunne told the court that he would adhere to all of the bail conditions and denied all allegations against him.
However, Mr Dunne remains before the court for another alleged attack on the other Luke Kelly statue on Dublin's northside.
Again, he is accused of graffiting the statue and has denied all allegations about this incident.
He has been ordered to remain sober and to avoid both Luke Kelly statues as well as obeying a curfew from 10pm to 6am.
Mr Dunne has to sign on daily at Store Street Garda station and has provided the Gardaí with a phone number and he must answer any call from the Gardaí at any times due to the bail conditions.
The statue on Guild Street has been vandalised on numerous occasions while the incident last June was the first time the statue on the southside was damaged.
In September of last year, CCTV and flood lights were installed at the Luke Kelly statue on the northside and you can read Radio Nova's report on it here.
Both Luke Kelly statues were vandalised last night. 😟 Thanks @pmacdublin who are currently on site cleaning Luke on Sth King Street.👏🏻👏🏻 #lukekelly pic.twitter.com/FbyFuysia4

— Dublin City Council (@DubCityCouncil) June 24, 2020