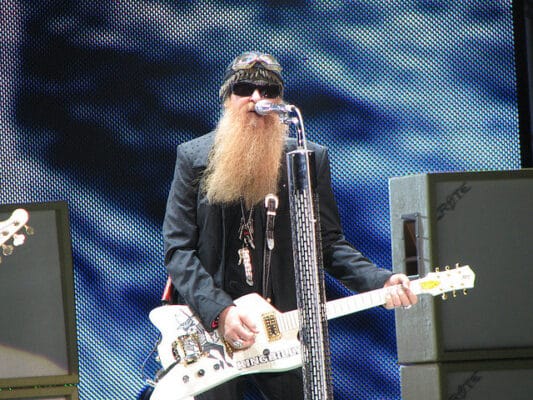 A music video for ZZ Top legend Billy Gibbons' track "My Lucky Card" has been released.  This is the third track released by Gibbons from his upcoming studio album Hardware having already unleashed, "Desert High" and "West Coast Junkie".
Hardware is to be released on June 4 via Concord Records. Here's another reminder that you can pre-order Hardware here.
On the album, Gibbons said,  "We holed up in the desert for a few weeks in the heat of the summer and that in itself was pretty intense. To let off steam we just 'let it rock' and that's what Hardware is really all about. For the most part, it's a raging rocker, but always mindful of the desert's implicit mystery".
More here on that here. 
You can also check out "My Lucky Card" for yourselves below.
Latests Gibbons track "My Lucky Card"
The video for this latest track was shot in and around Pappy & Harriet's Pioneertown Palace. The TV shows Gene Autry and the Cisco Kid were also filmed at this place. The catina/honky tonk was also built as part of the western movie set.
"We thought Pappy's would be a great place for us to do the video since it reflects the rough and tumble high desert vibe that was the inspiration for the album", Gibbons explained.
Gibbons also claimed that it took just one take for the onstage performance of this song from him and his band to be filmed.
"I play a slide guitar in this one but neglected to bring a proper slide along for the shoot", he said.
The rocker also explained how a "beer bottle" proved useful for this music video.
"Necessity being a mother, we improvised and used a beer bottle. We went through a case or more looking for just the right bottle neck", he revealed. "At last, found one on a classic Mexican brew. That was some thirst-quenching research to be sure".