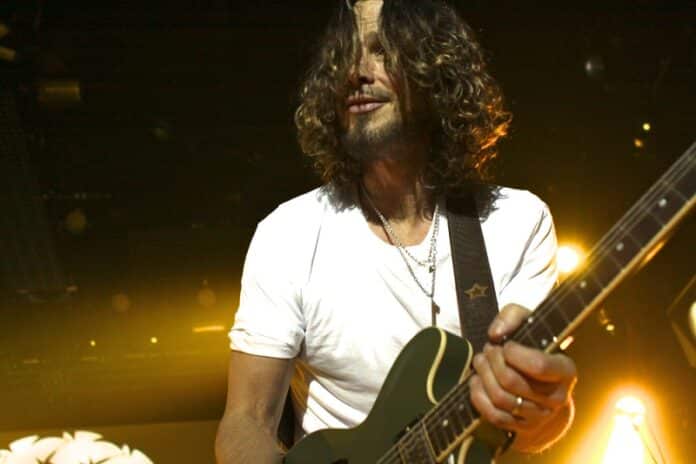 Before his sudden death in May 2017 aged 52, Soundgarden frontman Chris Cornell recorded one of his final songs, which was his contribution to Johnny Cash: Forever Words.
Due for release on April 6th via Legacy Recordings the album is adaptations of country legend, Johnny Cash's poetry set to new music.
Cornell's track is called 'You Never Knew My Mind'. It's a sublime and haunting song and it's streaming now on Johnny Cash's official VEVO channel. Click the image to listen.
In a 2016 interview, Cornell said that Cash was, 'One of the bigger presences in my life, in terms of an artist that I'm a fan of.'
Cornell spoke of the process of adapting Cash's poetry,
'The very first challenge really was crossing that threshold of changing one word. I think I had to cross that right away, where I'm thinking 'I want to make a good song out of this, so that's going to have to be repeated, and this line's going to have to happen.'
The album also features Elvis Costello, Willie Nelson, the Jayhawks, Rosanne Cash and Kris Kristofferson, among many more. It was one of the last recording projects that Cornell undertook.
According to Rolling Stone Magazine,
'the material comes from a monstrous amassment of Johnny Cash's handwritten letters, poems and documents… from love letters ('To June This Morning') to Cash's final poem ('Forever/I Still Miss Someone'), the words were written across the span of Johnny Cash's lifetime.'
Chris Cornell's wife, Vicky, gave an interview to ABC News where she denied Cornell would ever knowingly take his own life. Vicky Cornell claimed the singer's addiction to painkillers and issues with anti-depressants was the problem. She admitted he had taken 33 pills over a nine-day period.
Cash himself covered Soundgarden's 'Rusty Cage' for his 1996 album Unchained.