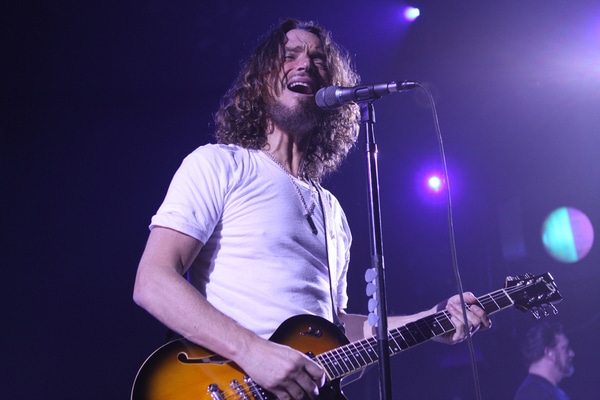 Toni Cornell the daughter of the late Soundgarden frontman Chris, has paid tribute to her father with a beautiful cover of Sinead O'Connor's "Nothing Compares To You" on the Jimmy Fallon Show. You can check it out below.
This performance took place on the Jimmy Fallon show last Friday (December 17).
This track was also covered by Chris for his posthumous album "No One Sings Like You Anymore". Chris Cornell sadly passed away in 2017.
"hope I did you proud"
Sharing a brief clip of the cover via her Instagram account, Toni Cornell wrote, "in honor of my dad to celebrate his two new Grammy nominations! Daddy I am so honored and hope I did you proud".
Vicky Cornell, Chris' widow also commented, "Daddy and I are so so proud of you! Your strength, beauty, love and kindness shine from within. You are so loved".
That posthumous album released before his death "No One Sings Like You Anymore", saw Chris Cornell earn two Grammy nominations. "Nothing Compares 2 U" saw him pick up a Best Rock performance nomination.
Earlier this year, Vicky Cornell promised that a follow up to "No One Sings Like You Anymore" was also in the works.
"There is a volume two", she said back in February. "The thing with this volume one, though, that makes it special is that he mastered it, he sequenced it, this is all Chris from beginning to end".
She added, "And the other one was mastered, not sequenced, volume two".
"Not in completely finished form, but there's enough to work with, and the Cornell stamp is all over it. So that's really special. So there's a lot of music". More on this report here.
Vicky also shared a love letter written to her by her late husband. 
A passaged from this letter read,  "I write this with the quivering hand that is guided by the fortunes of a heart lucky enough to know true love. My heart is a beating drum and my voice a clanging bell sounding to the world, I love you. Be mine in joy lit only by the glow of our shining love".
Metallica also paid a unique tribute to Chris Cornell.