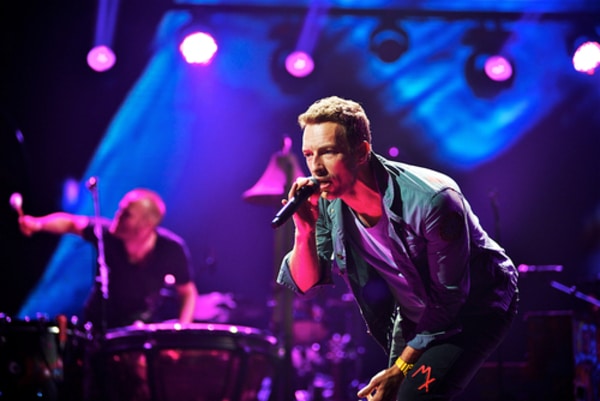 Chris Martin has said Coldplay will stop making music in 2025.
"Well I know I can tell you: our last proper record will come out in 2025 and after that I think we will only tour," Martin said in an interview with the BBC. "Maybe we'll do some collaborative things but the Coldplay catalogue, as it were, finishes then."
BBC presenter Jo Whiley admitted she didn't know if Martin was being serious or not about the band's intention to quit in four years' time.
"He's always very funny and I'm never quite sure if he's joking or being deadly serious," she said.
On the release of Coldplay's ninth album, Music of the Spheres, earlier this year, Martin said the band intended to bow out after their twelfth album. This leaves them with a tight schedule of four years in which to release their final three albums.
"We're going to make 12 albums," Martin said in October. "Because it's a lot to pour everything into making them. I love it and it's amazing, but it's very intense too. I feel like because I know that challenge is finite, making this music doesn't feel difficult, it feels like, 'This is what we're supposed to be doing'. I don't think that's what we'll do. I know that's what we'll do in terms of studio albums."
Earlier this month Coldplay joined the ranks of the many groups forced to cancel live shows due to the pandemic. Unnamed members of their touring crew testing positive, leading to the cancellation of performances at London's Capital Jingle Bell Ball and on German TV show The Voice of Germany.
"We send our love to the individuals affected and wish them a swift recovery," Coldplay wrote on social media.
BTS member V recently revealed that the members of Coldplay hailed him as "a second Chris Martin" during the Korean band's collaboration with the British group on My Universe.
In an interview with Vogue Korea, V said he recorded a demo of the song in the English language.
"Honestly, it didn't show in that video, but I recorded the full song when it came out as an English guide," he said, referencing a behind-the-scenes video released alongside the single.
V added that Coldplay were so impressed by his English vocals that they "praised me by saying I was like a second Chris Martin. That's why I listened a lot to that guide song I sang."