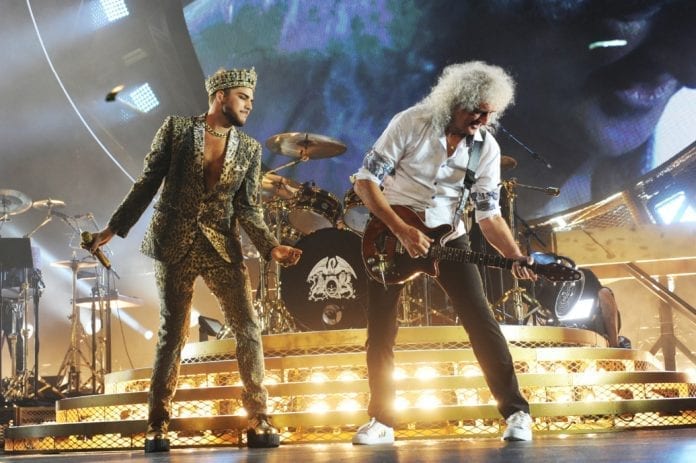 "Green Book" is the Best Picture of 2019. Based on a real-life road trip taken by black concert pianist Don Shirley and his Italian-American bodyguard/driver Tony Vallelonga through the deep south in the early 1960s, it is directed by Peter Farelly, and stars Viggo Mortensen and Mahershala Ali.
Queen biopic "Bohemian Rhapsody" was the biggest winning film of the night taking home four awards including Rami Malek scoring the Best Actor Oscar for his portrayal of Freddie Mercury.
https://twitter.com/SkyCinemaUK/status/1099884905222295554?s=20
Malek, who beat out fellow nominees Christian Bale (Vice), Bradley Cooper (A Star Is Born), Willem Dafoe (At Eternity's Gate) and Viggo Mortensen (Green Book) for the award said, "Thank you Queen. Thank you guys for allowing me to be the tiniest part of your phenomenal, extraordinary legacy. I am forever in your debt," Malek said while accepting his award. "… We made a film about a gay man, an immigrant, who lived his life just unapologetically himself. The fact that I'm celebrating him and his story with you tonight is proof that we're longing for stories like this. I am the son of immigrants from Egypt, I'm a first-generation American, and part of my story is being written right now."
Queen, with singer Adam Lambert, opened the 91st Academy Awards with a powerful, abridged version of the group's 1977 double-sided single, "We Will Rock You" and "We Are the Champions."
https://www.youtube.com/watch?v=XwbCfVEB5EM
"WE'RE NOT WORTHY!!!!"

Mike Myers and Dana Carvey hit the 2019 #Oscars to introduce "Bohemian Rhapsody." https://t.co/zSrvQG8ZE6 pic.twitter.com/ZRLpCmtkCN

— ABC News (@ABC) February 25, 2019
Wayne's World opened with an iconic scene featuring Wayne, Garth, and friends in a car, singing along and head-banging to the Queen song "Bohemian Rhapsody." The scene was so iconic it propelled the song to #2 on the Hot 100 chart when the movie was released (it had only reached #9 when the song itself came out, 17 years before).
Myers had a small role in Bohemian Rhapsody as a bitter music executive named Ray Foster who ironically says, "No one is going to be head-banging in the car to 'Bohemian Rhapsody.'"
Lady Gaga and Bradley Cooper's 'Shallow' won Best Original Song making it the most awarded song ever ahead of "Formation" by Beyoncé and Michael Jackson's "Thriller".
https://twitter.com/SkyCinemaUK/status/1099872011566891009?s=20
Gaga and Cooper's performance of the song was just one of the memorable moments during the highly anticipated host-less 2019 Oscars. It opened with some of comedy's most beloved actresses — Amy Poehler, Tina Fey and Maya Rudolph — who gave an opening monologue, even though they made sure to remind us that they were not the evening's hosts, and Melissa McCarthy and Brian Tyree Henry showed off hilarious outfits while announcing the winner for best costume design in a movie.
Melissa McCarthy and Brian Tyree Henry announce the award for Best Costume Design in some costumes of their own. #Oscars https://t.co/zSrvQG8ZE6 pic.twitter.com/SPkT92WlSw

— ABC News (@ABC) February 25, 2019
In accepting her Best Actress award for Irish-produced film "The Favourite", Olivia Colman gave one of the best speeches of the evening.
She said the experience of winning was "genuinely quite stressful" and that "this is hilarious! I've got an Oscar!". She also apologised to Glenn Close, saying, "You've been my idol for so long – this is not how I wanted it to be". Colman beat Close – who had been considered a shoo-in for her role in The Wife – Lady Gaga, Yalitza Aparicio and Melissa McCarthy to the prize.
https://twitter.com/SkyCinemaUK/status/1099887360060342273?s=20
The night was not without controversy with many pointing out that only one year after the #MeToo movement began, the Oscars awarded four trophies—including best actor—to "Bohemian Rhapsody", a movie directed by an alleged sexual predator. "Green Book" director Peter Farrelly also apologised after accusations of serial sexual misconduct. 
Meanwhile a record seven black artists won Oscars on Sunday — topping the previous record of five set two years ago. This year's record comes just three years after the Academy failed to nominate a single nonwhite actor in any category, a snub that prompted the #OscarsSoWhite movement.