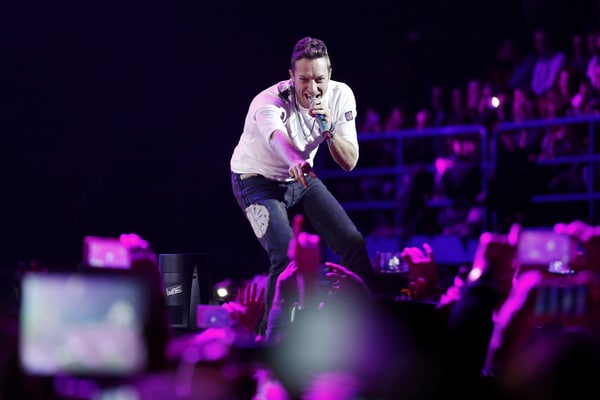 Chris Martin has spoken about Coldplay's surprise collaboration with Korean superstars BTS.
The Korean boyband guested on the British group's single My Universe, released last September. The song features on Coldplay's latest album, Music of the Spheres.
On Wednesday Martin was a guest on The Ellen Show and opened up to host Ellen Degeneres about how the collaboration occurred.
"That came about because someone said to me, 'Oh, BTS asked you to do a song for them', that's what I got told," Martin said.
Martin confessed to being unsure if a collaboration between the two groups would work.
"How are we going to fit these two things together?" he recalled asking.
"Then the idea started to seem really attractive in its weirdness, and then one day, the right song just kind of arrived," Martin told Degeneres. "And I just knew at the time [that] this was the song we were supposed to do with BTS and it's supposed to be about people who can't be together, or told they shouldn't be together."
"It's still quite a bizarre… but we love them," Martin said of his Korean collaborators. "For something that could've seemed so artificial, it turned out being one of the most real feelings. We genuinely love those people."
Later on the show Martin reinforced his pledge to release just two more Coldplay albums.
"I think that's what feels right to us," he said. "The story of our albums ends then. Like Harry Potter finishes at a certain point."
Minus BTS, Coldplay played a stripped-down version of My Universe for Ellen, which you can watch in the video below.
Upon the release of My Universe last September, Coldplay and BTS performed the song together on The Graham Norton Show.
After the performance, Martin compared the collaboration to "the movie Twins with Arnold Schwarzenegger and Danny DeVito," claiming he initially believed it was "never gonna work."
"But the idea sat in my head for awhile, and then the title came through, and then this song just appeared out of nowhere one day, and I felt like, 'Oh, this might be the one'," he told Norton. "It's a love song about difficult love or love that requires overcoming some boundaries, so we thought this would kind of fit with the two of us, in some weird way."
Earlier this week Martin was seen helping his girlfriend, actress Dakota Johnson, with a technical issue while she appearing on a Zoom interview for the Sundance Film Festival.
Johnson was promoting her new film Cha Cha Real Smooth, which had its world premiere at the Utah festival. When the actress experienced connection issues, Martin popped in to sort them out, flashed a peace sign at the camera and left.
You can see Martin's cameo at the 1 minute 50 seconds mark in the video below.