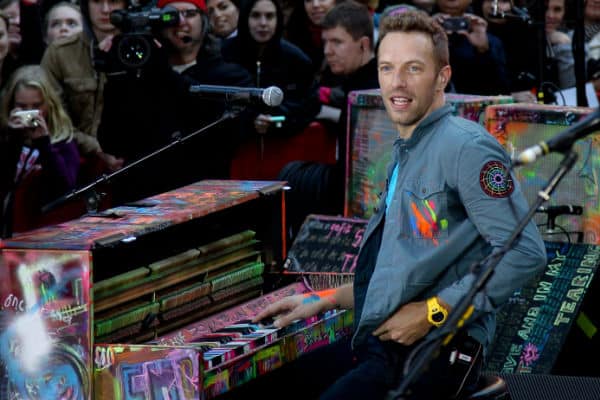 Would you like to listen to the article instead of reading it?
Chris Martin has revealed that he eats only one meal a day, after being inspired by Bruce Springsteen.
The Coldplay frontman made this revelation when he popped in for a chat with Conan O'Brien on the latest episode of his podcast series 'Conan O'Brien Needs A Friend'. 
"my next challenge"
Martin told O'Brien about his diet when he was asked about pearls of wisdom which were handed down to him after meeting fellow musicians.
The singer revealed that he was inspired to try this diet, after meeting Bruce Springsteen and his wife Patti for lunch.
"I actually don't have dinner anymore", Martin revealed.
He also added, "I stop eating at 4[pm] and I learned that from having lunch with Bruce Springsteen". 
"I was lucky enough to go over there to lunch the day after we played Philadelphia last year. I was on a really strict diet anyway", Martin continued. "But I was like 'Bruce looks even more in shape than me' and Patti [Springsteen's wife] said he's only eating one meal a day. I was like 'well, there we go. That's my next challenge'". 
Elsewhere, Martin also joked that Springsteen's regular meal consists of a "flank of buffalo with a steroid sauce". 
Martin & Co Announce Major Tour
Last August, Chris Martin's current band Coldplay also added new dates to their UK and European Tour, which takes place in May 2023.
The tour which is titled 'Music of the Spheres' inspired by their latest album of the same name, will see Martin and co perform at venues across Spain, the Netherlands, Italy, Portugal, along with UK cities Cardiff and Manchester.
The new dates include a performance at Portugal's Coimbra on May 17.
These tour dates for May are as follows.
MAY 2023
17 – Coimbra, Estádio Cidade de Coimbra
24 – Barcelona, Estadi Olímpic Lluís Companys
25 – Barcelona, Estadi Olímpic Lluís Companys
31 – Manchester, Etihad Stadium
You can find out more on this story from Nova here.