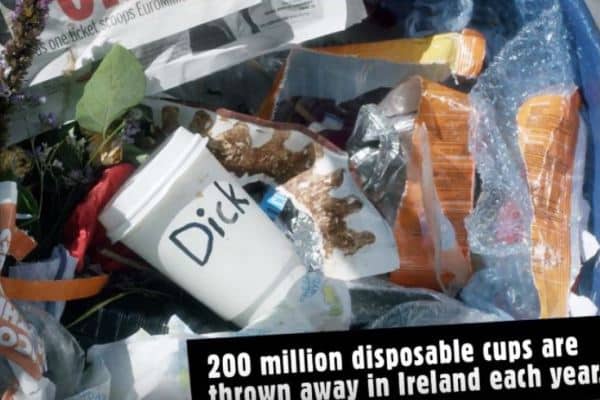 A major awareness campaign has been launched today in a bid to tackle the growing environmental issue of disposable coffee cups in the Dublin Region. Most disposable cups are made from paper with a plastic lining to make them waterproof in order to hold hot drinks.
This makes them unsuitable for recycling in Ireland. With Irish people using in excess of 200 million disposable cups every year this is having a seriously negative impact on our environment. To further compound the issue, disposable coffee cups have become a major source of on-street litter across Dublin.
The aim of the campaign, which runs over three weeks from 20th June, is to raise awareness among coffee drinkers in the Dublin region that disposable cups are having a detrimental impact on the environment.
The new campaign, 'Don't Be Dick', highlights how careless actions can have serious consequences on the environment, and asks consumers to think about their coffee drinking habits in a new way.
Have you seen our new ad – Don't be Dick ?
The campaign hopes to highlight the serious problem caused by disposable coffee cups in Dublin #DontBeDick https://t.co/Riw8JAiC7P

— Dublin City Council (@DubCityCouncil) June 20, 2018
The campaign will run across radio, Dublin Bus, cinema, digital and social media over the coming weeks. Speaking about the campaign, Fionnghuala Ryan, Executive Environmental Scientific Officer, Waste Management Services at Dublin City Council, said:
"The issue of single use plastics is very topical at present; research suggests that we use well in excess of 200 million disposable cups in Ireland every year, which is a shocking number for country of our size. These cups cannot be recycled in Ireland and can only be disposed of to landfill or incineration. A recent trial of segregated waste bins in Dublin City centre found that coffee cups contaminated all waste streams, so this presents a major litter problem for all local authorities."
Edwina Dunford, Environmental Education Officer, Fingal County Council, commented:
"The campaign does not encourage compostable cups, as composting is a very specific process which does not occur in landfill, where some of them end up as not all cafes have compost bins. Also, if they end up in a plastics recycling bin, they will contaminate the recycling process."
Sorcha O'Brien, Environmental Awareness Officer, Environment, Water and Climate Change, South Dublin County Council also said:
"It just makes sense – using your reusable cup allows you to have your coffee, your way, every day, and at a better price! It also helps minimise waste being created, which in turns helps to make our Dublin a cleaner and nicer place for everyone".