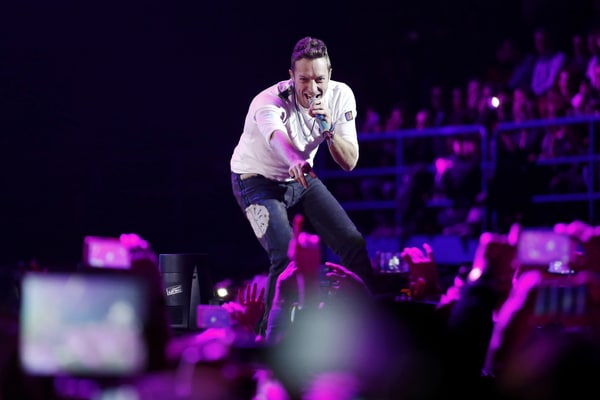 Coldplay have announced a week long residency on James Corden's Late Late Show. 
This will begin a few days after the band release their ninth studio album "Music Of The Spheres" which arrives on October 15, with Coldplay beginning the residency on October 18.
The residency will finish up on Octoner 21.
This will also see the band perform tracks from their new album, including their recently confirmed collaboration "Let Somebody Go" featuring Selena Gomez.
Along with this, Coldplay are also performing '❤️' which is pronounced Human Heart. This will feature WE ARE KIND and Jacob Collier. This track will be performed on James Corden's "The Late Late Show". 
Beginning October 18th ALL. WEEK. LONG. @coldplay will be performing songs from their new album #MusicOfTheSpheres! pic.twitter.com/26CfqqpCKy

— The Late Late Show with James Corden (@latelateshow) October 5, 2021
After this, the band will also peform for a one off gig at London's Sheperd's Bush. All proceeds will go towards the environmental charity ClientEarth.
The band had announced the arrival of the album back in July. In a note for the fans, Colplay also wrote, "Thank you for listening, or coming to shows, or any way we have met through music".
The tracklist reads as follows:
Here's the tracklist:
01 '[Ringed Planet Emoji]'
02 'Higher Power'
03 'Humankind'
04 '✨'
05 'Let Somebody Go'
06 '❤️'
07 'People of the Pride'
08 'Biutyful'
09 '🌎'
10 'My Universe'
11 '♾'
12 'Coloratura'
More on this here.
Coldplay single "Higher Power"
Featuring on this new album is the single "Higher Power". 
The band also performed this track to open up 2021's Brit Awards which were hosted by Jack Whitehall earlier this year. The song was officially released on May 7.
On the track, the video's director Dave Meyers had this to say, "The video is a metaphor for how, right now, we all feel alienated, far removed from our world, almost like we're on an alien planet".
He also added, "And ultimately we find love in the streets and that euphoria shoots us off into the stratosphere of our own energy and higher power".