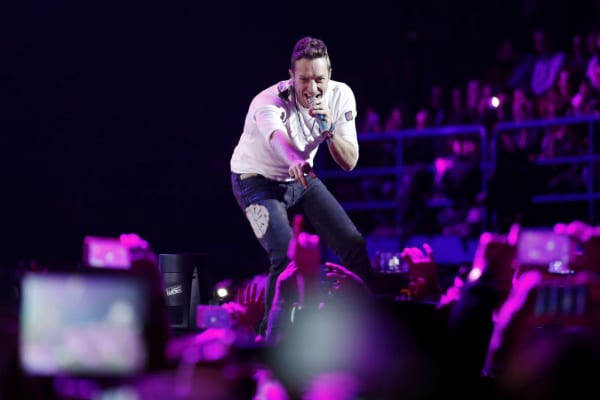 Coldplay once again took to the Wembley stage to perform what has quickly become their customary duology of covers.
Chris Martin and co took to the stage on Saturday (August 20), where they performed several covers of tracks by Kate Bush and ABBA, alongside Jacob Collier, Nicole Lawrence, and Steve Coogan aka Alan Partridge.
This show marked the penultimate Wembley gig for Coldplay and as was the case for the previous gigs, the show was split into seven segments, with the band performing across three different stages.
Coldplay Welcome New Supergroup To The Stage
Partridge and Collier were welcomed to the stage for the second to last of these segments.
Footage which you can see below, shows Chris Martin taking a backseat on the vocals for several performances, with Alan Partidge taking over as vocalist. Martin can be spotted playing acoustic guitar, Nicole Lawrence played pedal steel guitar, while Jacob Collier was on piano duty.
This new supergroup performed a range of covers including ABBA's 'Knowing Me, Knowing You'. They also performed Kate Bush's 'Running Up That Hill', which has enjoyed recent success following its inclusion on Netflix sci-fi thriller 'Stranger Minds'. 
Taking to the 'C Stage' in the middle of the dancefloor, you can see a clip of this performance below.
Knowing me. Knowing you! It was only Alan Partridge. Aha! #ColdplayWembley pic.twitter.com/mosPIlcxlE

— Nigel Wright (@njw499) August 20, 2022
During one of their earlier Wembley shows, Coldplay also welcomed singer Natalie Imbruglia to the stage.
The pair performed a special live rendition of Imbrugllia's 1997 hit 'Torn', as well as treating fans to a live cover of 'Summer Nights', in a special tribute to the late Grease star Olivia Newton-John who died this month aged 73.
See these special performances and more here.
"I love you so much. We will see you down the road and we will all be together again", Travolta wrote. "Yours from the first moment I saw you and forever!", Grease co star John Travolta wrote in tribute to Olivia.