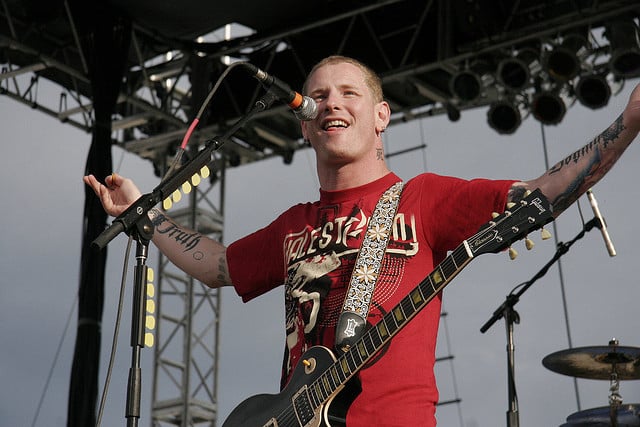 Slipknot and Stone Sour frontman Corey Taylor, has hit back at claims made by Kanye West during his Glastonbury set. Corey Taylor emphatically stated "you're not the greatest living rockstar on the planet!"
During Kayne's set at Glastonbury last month, he took a moment near the end of the show to say "You're watching the greatest living rockstar on the planet". Before saying it, he stated that he would regret not saying it in 30 or 40 years.
In a recent interview Corey Taylor spoke about West's claims and had some choice words to say about him. Taylor said "You are not — not — the greatest living rock star of all time. The fact that you had to tell people that kind of says it all really".
In the same interview Corey Taylor compared Kanye West to a certain type of individual "You remind of the guy who brags about sex. They never get as much as they brag about. Stop it. [Slaps wrist] Stop it!"
Corey Taylor's new book You're Making Me Hate You, was released yesterday (July 7) via Da Capo Press, a member of the Perseus Books Group. To promote the book he has been doing readings from the book, playing acoustic performances and having audience discussions about the book around the US. You can the check out the video interview down below.
Photo Credit: Karri