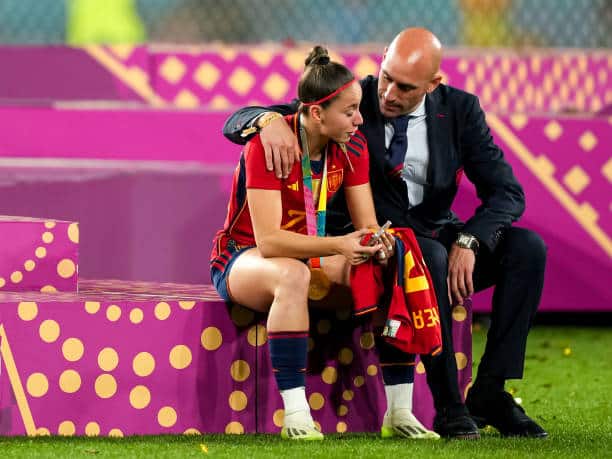 Would you like to listen to the article instead of reading it?
The under-fire Spanish football chief Luis Rubiales has refused to step down as federation president after the outcry over his unacceptable behaviour at the FiFa Women's World Cup final on Sunday.
The eccentric 46-year-old firmly planted a smacker on the lips of Spain striker Jenni Hermoso after La Rioja's 1-0 win over England in Sydney to a generally horrified response.
Before that he had raised eyebrows after he grabbed his crotch as he celebrated at the final whistle in the presence of Spain's Queen Letizia and her 16-year-old daughter.
"I will not resign, I will not resign," he told an extraordinary general assembly called by the federation on Friday. "A social assassination is taking place."
Rubiales apologised for the kiss on Monday before FiFa opened disciplinary proceedings against him on Thursday.
Widespread reports in Spain suggested a resignation would ensue on Friday – but instead he vowed to "fight until the end" insisting it was "mutual" and "spontaneous", saying he's done "nothing wrong."
"I'm ready to be vilified to defend my ideals," he added. "I don't deserve this manhunt I have been suffering."
"I want to apologise without reservation for everything that happened in the box, when in a moment of euphoria I grabbed that part of my body that you have already seen.
"Of course I have to apologise, to the Queen, and to everyone who has felt offended. I have been in countless boxes and I have never behaved like that."
Rubiales – who was elected in May 2018 – was repeatedly applauded as he addressed the assembly, which the Spanish football federation (RFEF) called "as a matter of urgency".
He defended himself by saying he was trying to console Hermoso after her late penalty was saved by England no.1 Mary Earps.
"Jenni was the one who lifted me up," he said. "I told her to 'forget about the penalty' and I said to her 'a little peck?' before suggesting that she said 'OK'.
"It was a spontaneous kiss. Mutual, euphoric and consensual. That's the key. A consensual 'peck' is enough to get me out of here?
The world cup winning 33-year-old forward Hermoso said initially on Instagram that she "didn't like" Rubiales' actions but a statement released later on her behalf defended him.
Rubiales' defiant stance has been met with widespread condemnation.
Minister for equality Irene Montero said on X: "Silence has not worked and discrediting the victim, her support networks and the feminist social demand for the guarantee of the right to sexual freedom will not work either. Only yes is yes."
Victor Francos, secretary of state for sport, told Spanish radio station La Ser: "We are going to act… we have activated all the mechanisms to take the appropriate measures."
Javier Tebas, the head of Spain's top division La Liga, said it was "very difficult to explain what is happening with Luis Rubiales".
He added that the sport was having to "live in dealing with him as president of the RFEF. The misogynistic gestures, the profane expressions, the protocol disaster and the insults of this latest global embarrassment are not a surprise".
Tebas went on to allege serious criminal allegations against the president in his statement and added: "The list of women and men aggrieved by Luis Rubiales these years is too long and this must stop."
Former Manchester United and Spain goalkeeper David de Gea wrote "my ears are bleeding" on X, while Iker Casillas, Spain's World Cup-winning captain in 2010, simply said: "Embarrassing."
The former Real Madrid goalkeeper later added: "We should have spent these five days talking about our girls, of the joy they gave us all, to boast of a title that we did not have in women's football but… "