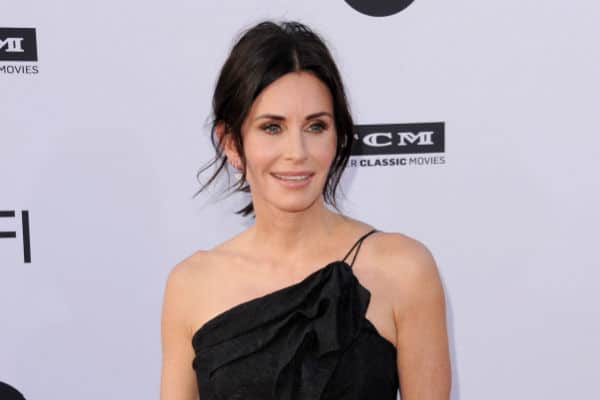 Courteney Cox has been awarded a star on the Hollywood Walk of Fame.
The actress who earned plaudits for her role as Monica Geller in popular US 90s sitcom, Friends, became the 2,750th name to be awarded at Hollywood Boulevard.
Cox's other credits include The Longest Yard, Bedtime Stories, Ace Ventura: Pet Detective, Mr Destinym, 3000 Miles To Graceland, Coccon: The Return and others, while she also earned a Golden Globe nomination for her role as Jules Cobb in Cougar Town.
Cox starred in the sitcom Friends alongside co stars Jennifer Aniston and Lisa Kudrow, who played Rachel Green and Phoebe Buffay respectively.
The pair attended the ceremony alongside Cox, her partner Johnny McDaid and daughter Coco.
"support and love one another"
Paying tribute to their co star, Jennifer Aniston and Lisa Kudrow praised Cox for the "warmth" that she has "instilled into all of us".
"(Courteney) instilled into all of us, into our DNA, to support each other and to love one another, and that actors need to support and love one another, not compete with one another", Kudrow said.
She added, "Those wise, wise words have stayed with me – I learned them as a young 20-something-year-old actor and that really set me on my path as a young woman and being able to create relationships that I cherish to this very day".
"I really believe that it was that, and Courteney doing that, that really set us up to become one of the closest, most loving and supportive casts in, I'll say it, the history of television", Kudrow also stated.
"You are the definition of a truly beautiful, talented, and what's most important, a truly good and decent human being. Thank you for enriching our lives", she told Cox directly.
A tearful Aniston also called Cox "a really good human" and "extraordinary friend". Check this out here.
Cox Praises Family
Despite admitting that she is not a fan of public speaking, Courteney Cox praised her daughter Coco, conceding that growing up surrounded by show buisness is not easy.
"Coco, you're perfect," she said. "It's not easy to grow up in this business, and I just want you to know you shine and you shine in your own unique light".
"I love you so much, I'm so proud of you. I'm proud to be your mom". 
Courteney Cox becomes the latest star to be awarded on the Walk of Fame, a list which also includes Red Hot Chili Peppers.