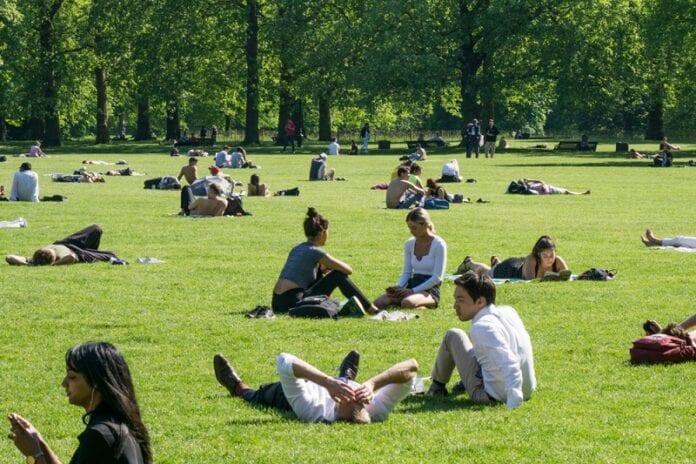 While Ireland waits on the Government's announcement regarding our own lockdown restrictions, The UK will see many rules eased from today.
In England, groups of six or two households can socialise in parks and gardens while many outdoor sporting activities will return.
Football and cricket pitches, tennis and basketball courts, and outdoor swimming pools can reopen. Golf and sailing clubs can also reopen and organised team sports can return.
The 'stay at home' order has been changed to 'stay local' and people are still encouraged to work from home if possible.
Boris Johnson has urged the public to remain cautious as cases across Europe continue to rise.
"Despite today's easements, everyone must continue to stick to the rules, remember hands, face, space, and come forward for a vaccine when called," said Johnson.
Restrictions have been eased in The UK as around 30 million people have received a first vaccine dose, accounting for about 57% of all adults, with nearly 7% of adults receiving their second dose.
Chief medical officer for England Professor Chris Whitty said:
"The evidence is very clear that outdoor spaces are safer than indoors. It is important to remember this as we move into the next phase."
Boris Johnson has said the easing of restrictions will hopefully "kickstart a Great British summer of sport" as children are being encouraged to engage in exercise for at least one hour a day while adults should aim for 150 minutes.
A new slogan was also unveiled to stress the importance of ventilation in reducing the spread of the virus: "Hands, Face, Space and Fresh Air."
The next step in easing England's lockdown restrictions will be on April 12 when non-essential shops can reopen and outdoor dining can also resume.
Meanwhile, in other parts of the UK, restrictions are being eased. In Wales, the 'stay local' order ended over the weekend and people are now allowed to stay in self-contained holiday accommodation.
Outdoor sporting activities can also take place in Wales now and the rule of six or two households has also been implemented. Libraries also reopened and people can now visit outdoor historical places and gardens.
In Scotland, the 'stay at home' order will change to 'stay local' and hairdressers, garden centres and homeware stores will open in the coming week.
Northern Ireland will also see the rule of six or two household rule come into effect from Thursday.
In other good news for Northern Ireland, Belfast's SSE Arena has now opened as a mass vaccination centre.
The arena has the capacity to vaccinate up to 40,000 people a week. Due to a slowdown in supply from AstraZeneca, only around 11,000 people a week will be vaccinated in the arena in the coming weeks.
The latest figures show that 850,041 vaccines have been administered in Northern Ireland. These include 726,589 first doses while 123,452 people have received their second jab.
Northern Ireland aims to offer the first vaccine dose to all adults in the region by July.
In Ireland, the vaccine rollout has accelerated in previous days.
At the time of writing, the latest figures from Ireland's Covid-19 Data Hub show that a total of 786,569 vaccines have been administered.
567,023 first doses have been administered while 219,546 people have received a second dose.