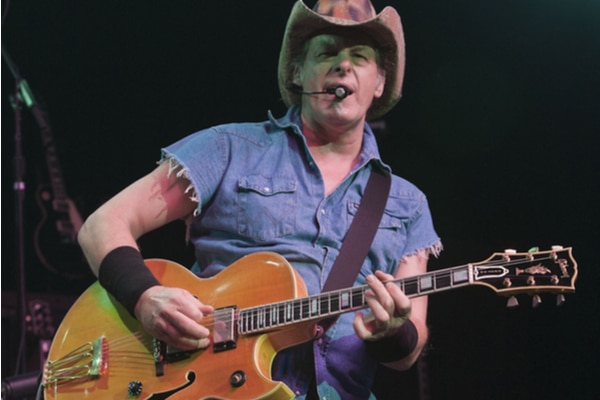 Controversial rocker Ted Nugent has been known for espousing a conspiracy theory or two over the years.
For example, Nugent has gone on record claiming that Covid-19 "is not a real pandemic", branding it a "hoax".
However months later, Nugent denied uttering these words.
The rocker also blasted mainstream media for allegedly miscontruing his previous comments.
"The lies I've seen that I've been doing these public appearances knowing I had the COVID-19. False", he insisted.
He also added, "Saying that I claimed COVID-19 was a hoax. False. I've always said… We have actually footage of me saying, if not hundreds, thousands of times… Of course there's a Chinese virus. Hello? Who thinks that I claimed there's no Chinese… There's a Chinese virus. They call it COVID-19. I'm well aware of that". 
He had also revealed that he was even diagnosed with the virus, saying that he had been struggling to get out of bed. 
"Could I become any cooler" – Nugent
In a new interview, Ted Nugent was asked if he feels that he has become a lightening rod for controversy over the years.
Here's what he said. Hold on to your hats!
"It's all so simple, it's stupid. Courtney Love is a drug-abusing liar; guns and the Second Amendment are perfect; drugs are for weak losers; politics are supposed to be driven purely by the U.S. Constitution; gay people are just people; the very concept of animal rights is a dirty scam; too many Islamists are murderous, homophobic devils". 
He then claimed that, COVID-19 will "go down in history as the biggest scam known to man".
Nugent also added, "Kyle Rittenhouse [a then-17-year-old from Antioch, Illinois who fatally shot two men and wounded another in Kenosha, Wisconsin in August 2020] displayed the perfection of good over evil; [former U.S. president Barack] Obama was an America-hating p****, nearly everything [former U.S. president Donald] Trump did benefited America and mankind; and [current U.S. president] Joe Biden is the manifestation of cultural deprivation. I'm a lightning rod because truth, logic and common sense is kryptonite to the politically correct, braindead, soulless cult-of-denial fleebs. Could I be any cooler?". 
Nugent also had his say on the Neil Young Spotify saga earlier this year. He did not mince his words there. Find out what he said here.