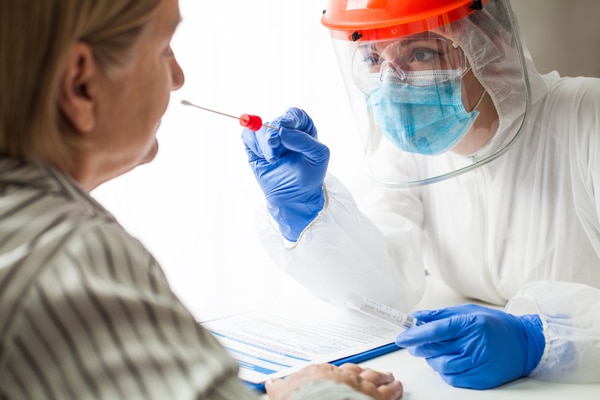 Those who show signs of COVID-19 infection will soon have to fork out €90 for a private PCR test as the HSE begin closing free testing services. Yesterday afternoon, Cabinet decided that it will no longer offer free PCR tests to healthy members of the public under 55, or those that are boosted.
The decision will see an end to most COVID restrictions, including mandatory use of facemasks outside of healthcare settings. It will also see the end of routine testing and tracing, and isolation requirements for close contacts, unless symptomatic.
Speaking yesterday afternoon, UCD virologist, Gerald Barry described the decisions around testing as far reaching, and said most people with symptoms "don't have to test themselves anymore." The virologist instructs people to isolate until they feel better for two days, before "you are good to go."
The positive to come from this is that infected people will only have to stay at home for three to four days. It allows asymptomatic, pre-symptomatic, or mildly symptomatic people to move around society.
Mr Barry concluded that, "If you combine that with the lifting of mandatory face masks you are basically saying there is a large drop in concern about community transmission of the virus." The virologist became surprised when discovering there was no reference to home antigen testing for the most part.
"It has largely shifted to treating the virus like any other respiratory virus, but this is more transmissible than any other virus we have encountered."
Mask and close contact mandates coming to an end may not be such a wise move, according to Gerald Barry. He feels dropping the requirement for close contact children to stay home from school, following case of COVID-19, could have implications for spread. Schoolchildren will also no longer be obligated to wear masks, unless they wish to do so, and pods will also end in the classroom with physical distancing.
Earlier, Tánaiste Leo Varadkar said there will be "no legal requirement to wear a mask anymore," in any setting. However, mask wearing will still be advised for public transport and also in healthcare settings. Varadkar added that there will still be some members of the public who wish to continue wearing masks, such as people with underlying conditions, are immunocompromised, or are vulnerable.
"They wish to choose to do so, and of course, there is no reason why they should not."
Some measures are set to remain in place, such as hygiene recommendations, ventilation, and advising infected people to stay at home. For people who have confirmed COVID infection through a positive antigen test or PCR test, the rules stay the same. That is, "to isolate, to stay in your room for seven days. And on days eight, nine and 10 to wear a mask. That doesn't change," Mr Varadkar said.
With fewer people entitled to a free PCR test, it is expected that new systems will be in place for tracking the virus.