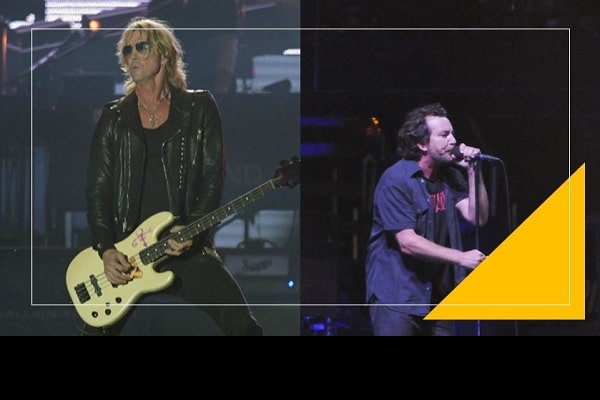 Eddie Vedder recruited Guns N' Roses bassist Duff McKagan during Monday's show at Benaroya Hall, Seattle, for a cover of Precious. A fan-filmed video has been circulating online of the Pearl Jam frontman teaming up with the legendary bassist for their rendition of The Pretenders hit.
The hit track, which appeared on the 1979 self-titled debut album, brought McKagan to a stage in his hometown for the second time in as many weeks. The bassist previously played with Slash featuring Myles Kennedy & the Conspirators at the Paramount Theatre on February 9th.
Taking to Instagram after the concert, McKagan shared "Congratulations to @eddievedder for one hell of a record! This show ..that band @chadsmithofficial @thisiswatt @pluralone_official @chrischaneybass and @thegingerman222 !!! So good."
Eddie Vedder is in Seattle for two nights as part of his brief US tour this month, promoting new album, Earthling. The Pearl Jam frontman has postponed two gigs already on the tour following a COVID-19 outbreak in his touring party. Although, the rocker did reschedule for an event for February 25th at the YouTube Theatre, Los Angeles, with another stop at The Magnolia, San Diego, on February 27th.
Check McKagan jamming with Duff here, courtesy of Hennemusic.
Alongside contributions from Ringo Starr, Elton John and Stevie Wonder, the LP also features guest vocals from his late father. Speaking in January with Mojo (per Louder), Eddie revealed that he "didn't really get to know my real father.
"I met him maybe three or four times as a kid, but he was, you know, a friend of the family," Eddie continued. "It would have been nice to have been in a room with him at some point before he died when I was 13. It would have been nice to share that I knew that he was my pop, but it didn't happen."