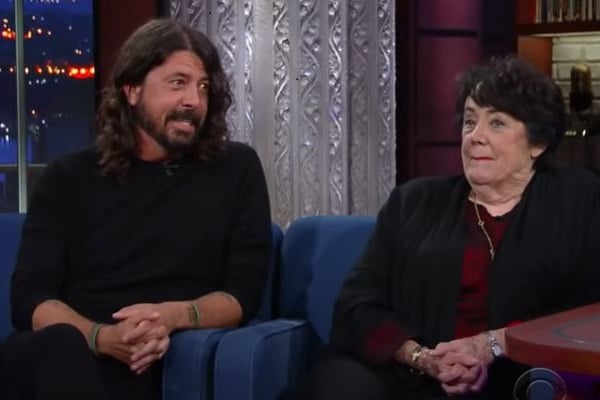 Foo Fighters frontman, Dave Grohl is set to co-host a new show on Paramount+, with his mam, Virginia Hanlon Grohl. The series was inspired by Virginia's book, From Cradle to Stage: Stories from the Mothers Who Rocked and Raised Rock Stars.
When the show was initially announced in 2018, it was unattached to any network. However, it has been recently revealed that the show will debut on the Paramount+ streaming service. CBS All Access is set to rebrand as Paramount+ on March 4th and will come packed with content new and old.
According to reports from ViacomCBS's TCA presentation on Wednesday, it was announced the platform will be a home to reboots of classic MTV and VH1 franchises as well as the new docu-series from Dave Grohl and his mam. In 2018, Virginia said she was "excited" to show these "strong, loving women" to the world.
"I'm excited to introduce the viewing public to the strong, loving women who have supported the insistent dreams of their musical sons and daughters," said Virginia. Naming Rush frontman Geddy Lee's mam, Mary Weinrib, and many others, she said "their backgrounds vary greatly, but they have so much in common. Viewers will join all the mothers around a table when they meet for the first time at a celebratory dinner, where secrets and stories will be shared and compared".
Jr Grohl will direct the series, which will focus on various celebrity performers and their mothers to further explore those relationships. Identities of the celebrity performers involved have not yet been announced, but Virginia's book included Dr. Dre, Beastie Boy Mike D, Amy Winehouse, Rage Against The Machine's Tom Morello, REM's Michael Stipe and more.
When the project was initially announced, Dave Grohl said he was "beyond excited to join in on the next step of my mother's project to explore the stories of other musicians who were as fortunate as me, having been raised by such amazing women. Plus…I owe her one".
Grohl's book highlights an array of incredibly strong women
Live Nation Productions President of Production, Film & Television, Heather Parry said Grohl's book highlights "an array of incredibly strong women, sharing true and unique perspectives of the mothers who raised some of our most celebrated rock stars". She also noted she is a Foo Fighters fan and has known Dave "since my days at MTV, so it's incredibly gratifying to be partnering with Virginia and Endeavor Content to help bring this project to life".
The series will use excerpts from years of interviews with the mothers of global superstars. Big names including Pharrell, Adam Levine, Tom Morello and more, as well as Hanlon Grohl's own family photographs and stories will be shared on the show. A host of shows are set to be reboot on the streaming service.
As well as Grohl's show, Paramount+ are set to release classic shows such as Rugrats, Frasier, Behind The Music and Yo! MTV Raps, as well as new MTV Unplugged performances. A press release confirmed archival Behind The Music episodes will be available, too. Mike Judge is making a new Beavis and Butt-Head movie for the service, in addition to the new Beavis and Butt-Head series he is creating. A new show featuring the original cast of The Real World: New York returning to the loft at 565 Broadway in SoHo has also been announced.
To get a taste of the show, revisit Dave and Virginia Grohl's 2017 The Late Show interview below.