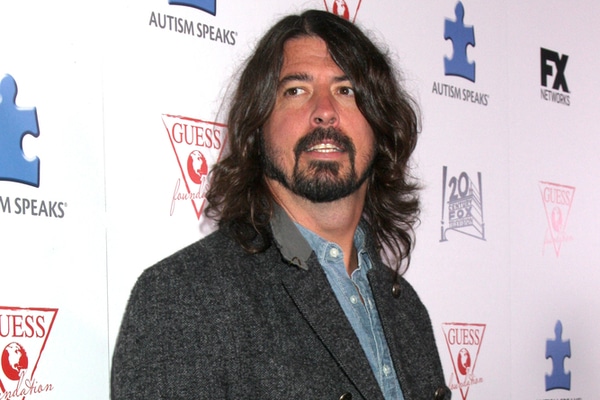 Dave Grohl has opened up on the damage he's suffered to his hearing through his career.
Speaking with Howard Stern, the Foo Fighters frontman detailed the current status of his hearing and how he continues to work despite his issues.
"I haven't had [my ears] tested in a long time, but I know what they're going to say," Grohl said. "You have hearing damage — tinnitus — in your left ear more so than your right ear. My left ear is kind of worse than my right because my snare drum and my stage monitor when I play the drums [are over on this side]."
When quizzed by Stern as to why he didn't use in-ear monitors, Grohl gave his reasons.
"I've tried the ear monitor thing before, a long time ago, and the problem that I have with it is that it removes you from the natural atmosphere sound," he explained. "I want to be able to hear the audience in front of me and I want to be able to turn around and hear Taylor right there and go over here and hear Pat and over here and hear Chris and stuff like that. It just messes with your spatial understanding of where you are onstage."
"I have little fucking earholes and those things, when I put them in, they just pop out," he continued. "And I don't want to look like a praying mantis with these things all over my head. I wanna go out there and go nuts."
Grohl went on to credit a member of his stage crew for helping him to perform despite his hearing issues.
"I've had the same monitor guy, the guy who mixes my monitors, for 31 years," he said. "He's in my head. So even though I'm not using in-ear monitors, the sound onstage for me is fucking perfect, because it's been the same guy, Ian Beveridge, for 31 years, since Nirvana."
Grohl revealed that he finds it easier to hear details in the recording details than everyday conversations.
"I can hear the minutiae of everything we've done to that song," he said. "I really can. That said, if you were standing right next to me here at dinner, I wouldn't understand a word you were saying."
Next week sees the release of Foo Fighters' first venture into movies. Studio 666 is a horror-comedy that sees Grohl become possessed by evil demons when the band check into a haunted mansion to record an album.
Making a cameo in the film is legendary horror director John Carpenter, the man behind such classics as Halloween, The Fog and The Thing. Carpenter also composed the movie's theme.
"This is probably the craziest coincidence or story involved in the whole film," Grohl said of how he snared Carpenter for his film. "When we started pre-production for the movie, I mentioned it to our lighting designer Dan Hadley. He's been with us for a million years. Dan went out on tour with John Carpenter, when John went out to perform his music. Dan said, 'You should call John Carpenter and see if he'll make a cameo.' I said there's absolutely no fucking way that he'll ever do this. Dan gave me his email so I totally blind cold emailed him and said, 'Hi, my name's Dave, we have a mutual friend, Dan Hadley. We're making a horror film, wondering if you'd consider doing a cameo?"
"Little did I know that John Carpenter's godson [and The Kinks' Dave Davies' son] is Daniel Davies," Grohl continued. "Daniel is in a band that we took on tour with us 15 years ago [Year Long Disaster]. John Carpenter responds and says, 'Because you treated [Daniel] so well on tour 15 years ago, not only will I make a cameo in your film, but I'll also write the theme song. It was the most incredible thing. I did not expect it. I could not imagine it. It happened and when he sent that song, we all got goosebumps. I mean, it can only be John Carpenter. Some people might hear it and think that just sounds like John Carpenter. It is."