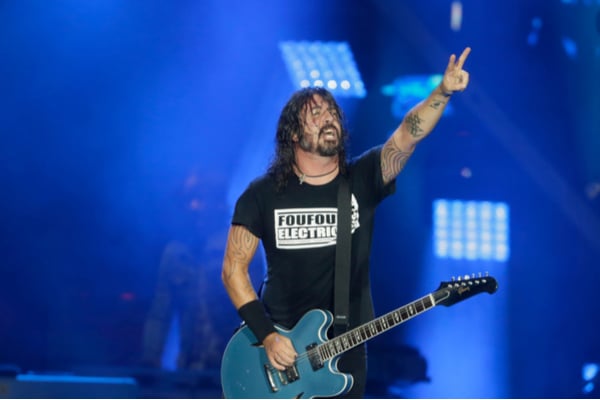 Dave Grohl has confirmed that the album with his fictional album Dream Widow will be released this week.
Back in February, the Foo Fighters' frontman first confirmed that this album would be released. He said that it would coincide with the release of Foo Fighters' horror-comedy film 'Studio 666'.
The film shows the band recording a studio album in a mansion in Encino. The frontman Dave Grohl subsequently becomes possesed by an evil curse, before getting attacked by his bandmates.
The film also explores how the band Dream Widow also recorded a "lost album" before their lead singer was murdered.
Dream Widow
Now it has emerged from Variety, that this "lost" album will arrive this Friday (March 25). A physical release of the album will arrive later this year.
Dave Grohl has already released the first track from this album, 'March Of The Insane'.
Grohl can be heard shouting the lyrics, "Sing in a villainous choir / Join in a chorus of pain". He can be heard singing this over frantic guitar riffs and drum soloes.
The number of tracks to feature on the album or what the overall sound of it will be like are yet to be confirmed.
Dave Grohl has also been collaborating with several other musicians lately, including Liam Gallagher. Grohl played a part in Gallagher's recent single 'Everything's Electric' from the upcoming album Cmon You Know.
Paying tribute to Grohl, former Oasis frontman Gallagher called him "one of the last remaining rockstars".
Dave Grohl who co-wrote the track, spoke very highly of Liam. "Unfortunately we didn't do it in person but I love being in the same room as Liam", he said.
"It's like putting a f****g quarter in a juke box and just turning it up with that guy. It's f*****g great. Obviously, he's an amazing singer and he's a f*****g rock star. He is one of the few last remaining rock stars".
More on this from Nova here.
It was also reported that Studio 666 flopped at the opening weekend of its release at the box office. More on this story here.