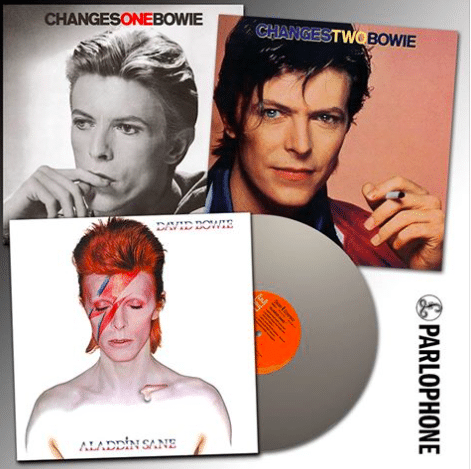 Two of the late, great David Bowie's albums are going to be released as special limited edition versions. In celebration of the 45th Anniversary of the 'Aladdin Sane' record, both 'ALADDINSANE' and 'CHANGESTWOBOWIE' will be released as a special silver vinyl version on April 20th.
This date will be exactly 45 years since the original album's release date.
It was previously believed that Aladdin Sane was issued on April 13th, 1973, but evidence has now proven that the official release date was the 20th, which was Good Friday in the UK, so it was 'made available' on the 19th instead.
The strictly one time run vinyl editions will feature Ken Scott's 2013 remaster.
However, you won't be able to buy the album online, as it will only be available through the original way we used to buy music, in shops in the big bad world.
https://www.facebook.com/davidbowie/posts/10155138591792665
Check out the tracklists for the records:
ALADDIN SANE
Side 1
Watch That Man
Aladdin Sane (1913-1938-197?)
Drive-In Saturday
Panic In Detroit
Cracked Actor
Side 2
Time
The Prettiest Star
Let's Spend The Night Together
The Jean Genie
Lady Grinning Soul
The second record, 'CHANGESTWOBOWIE' will be released on April 13th, with all of the tracks remastered on CD 'in a digipak sleeve, high-resolution 192/24 and 96/24 digital and standard digital for streaming and download'. There will also be a 180gram vinyl edition available randomly on an initial limited run in black and blue, before returning to just black.
'192/24 and 96/26 high-resolution digital versions of 'CHANGESONEBOWIE' will be released for streaming and download on April 13th too.'
CHANGESTWOBOWIE
Side 1
Aladdin Sane (1913-1938-197?)
Oh! You Pretty Things
Starman
1984
Ashes To Ashes*
Sound And Vision
Fashion*
Wild Is The Wind
John, I'm Only Dancing (Again) 1975
D.J.*
*Single versions
CHANGESONEBOWIE
Space Oddity
John, I'm Only Dancing (original version)
Changes
Ziggy Stardust
Suffragette City
The Jean Genie
Diamond Dogs
Rebel Rebel
Young Americans
Fame
Golden Years