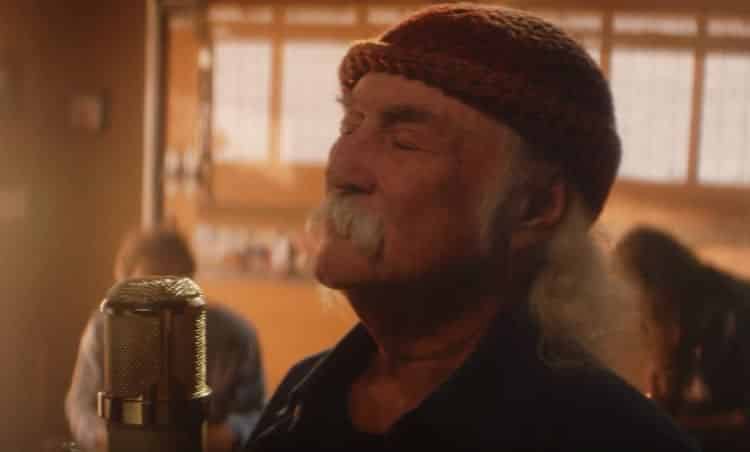 Legend David Crosby's newest music video also serves as a promotion of an upcoming movie he's behind called Little Pink House. The song is a slow ballad he wrote in partnership with his son, James Raymond, and is called 'Home Free'.
The track appears on Sky Trails, which is a solo album released last year by the former Crosby, Stills, Nash & Young front man.
Crosby and Raymond wrote the song for Little Pink House which is a feature film due out on April 20th. The film is about the Supreme Court 'Kelo' decision. A ruling which permitted the purchase of homes against the will of those who owned them, under laws relating to eminent domain (compulsory acquisition).
I love seeing all this coverage of Susette Kelo's amazing story and its portrayal in the terrific @LPHmovie! @TODAYshow @megynkelly @IJ #EminentDomain https://t.co/YmyMiim41i

— Justin Pearson (@JustinPearsonIJ) April 16, 2018
In real life and the movie itself, there was a case that made national news in 2005. Homes in New London, Connecticut, were to be purchased and destroyed for the purpose of 'economic development.' That was mainly so that Pfizer could build a facility there in anticipation of a massive new drug it called Viagra.
In the music video Crosby sings: 'Fight like the devil to hold this ground/ This place of safety that we found.' Crosby said in a recent interview with  The Hollywood Reporter last February, that he 'was moved by the film. There's also the fact that the movie is at odds with President Trump's views on eminent domain.
Speaking about Trump, Crosby said, 'He has used it. What a wretched person. The worst kind of landlord; and a racist. He's done a lot of really bad stuff.' In the same interview, Crosby says he'd love to reunite Crosby, Stills, Nash and Young for the purpose of bashing Trump.
That though, its a bit of a challenge, as the rocker doesn't get along with his former band mates.
David Crosby's 'Home Free'…