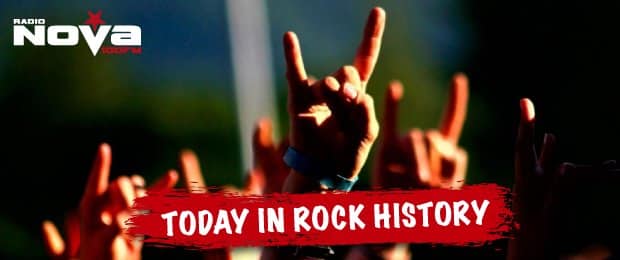 It's important to know your rock history, here at Radio NOVA we bring you ten rock stories from the sixties, seventies, eighties, nineties and the noughties.
On this day in rock history: September 24th.
1962: Elvis Presley receives an invitation to appear at the Royal Variety Performance in the UK which is attended by members of the British Royal Family.
1966: Jimi Hendrix arrives in London with manager Chas chandler on a flight from New York City. With only the clothes he was wearing, Hendrix had sold his other belongings to pay a hotel bill in New York. One of the first things he does after arriving in England is to legally change his name from James to Jimi.
1967: The Beatles film the 'Your Mother Should Know' dance segment of their film Magical Mystery Tour at the West Malling Air Force Station in Kent. The Beatles dressed in white suits and shoes, gliding down a glittery staircase as 160 members of Peggy Spencer's dance team swirled round about.
1971: The Jackson 5 appear on the cover of Life magazine, with the headline "Rock Stars At Home With Their Parents."
1975: Rod Stewart was at No.1 on the UK singles chart with 'Sailing'. The song became a hit after it was used in a TV documentary series.
1980: The mixing of the forthcoming John and Yoko album Double Fantasy moved from the Hit Factory in New York City to Record Plant East. During this session, John Lennon gave one of last ever interviews.
1988: James Brown becomes involved in a hour-long, two-state car chase with police in Augusta, Georgia. Driving over six miles in his pickup truck after authorities shoot out his two front tires, Brown is arrested and charged with illegal possession of drugs and firearms, simple assault, carrying a deadly weapon in public, resisting arrest, and seven misdemeanors. He is released from jail after serving two years of a five-year sentence.
1991: Nirvana's album Nevermind is released in America, entering the chart at No. 144 on its first week. The album which peaked at No. 1 in January 1992 has now sold over 30 million copies world wide. The idea for the now iconic front cover shot of the baby swimming came after Kurt Cobain and drummer Dave Grohl saw a TV documentary on water babies.
1995: The Charlatans are arrested by 24-armed police after a flight to New York. The band were accused of trying to disrupt the planes flight path, passengers complained of the group being drunk, spitting and interfering with in flight TV sets.
1997: Barry Loukaitis was convicted of shooting and killing two pupils and a teacher at a school in Washington. His defence team claimed he had copied scenes from Pearl Jam's video 'Jeremy'.