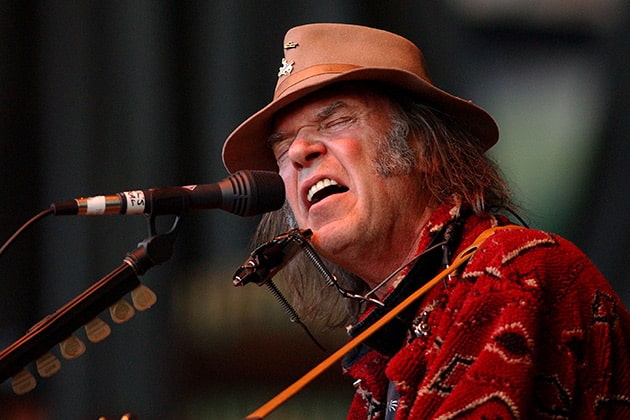 The RDS in Dublin has hosted many horse shows over the years, but this weekend it's more about rocking horses than those of the equine variety.
What's shaping up to be one of the biggest gigs of the summer is Neil Young and Crazy Horse this Saturday (June 15th). There are many reasons to catch this gig, in fact, who knows if Neil Young will ever grace our shores again?
The 67 year old released his 35th album 'Psychedelic Pill' towards the end of last year – his first with Crazy Horse in nearly a decade. And as if being a former Buffalo Springfield and Crosby, Stills, Nash and Young member wasn't enough of a guarantee of quality music from Young, his recent campaigning to improve music quality for our ears indicates he'll be hitting all the right notes in Donnybrook tomorrow night.
Young's an advocate of high resolution audio, saying CDs and MP3s have deprived our ears of "the full experience of listening". And an experience you will get if you're going to the gig; with doors opening at 4pm, you could call it a mini festival, with an impressive support lined up. Dublin quintet Little Green Cars kick off the evening's entertainment at 5pm.
This band is barely on the music scene and has already taken it by storm. Their début album 'Absolute Zero' has taken them from the charts to the summer festival circuit.
They share a stage with Grammy-Award winning Los Lobos who will prove to those unfamiliar with the band's work after 'La Bamba', that there is so much more to them than their 1987 smash hit. See why when they take to the stage at the RDS at 6pm. Also from the 80s, The Waterboys will be the last support act, due on stage at 7.15pm.
Watch out for Radio Nova broadcasting live from the RDS, hoping to rub shoulders with Neil Young or any of his band at the venue. Sure how many times can you use the greeting: "Hoiwye Horse" to a rock legend?
Dee Woods
Nova Nights: Monday – Friday 7pm-12am
Sundays 12-2pm
@RaDeeOh