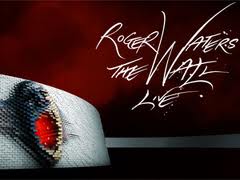 Were you one of the lucky ones? Did you Run Like Hell for tickets? I've no doubt by the time most people start work today, Roger Waters' The Wall Live show in Dublin next year will have sold out.
Tickets to the audio/visual spectacular went on sale at 8am and it's set to be wall to wall mania at The Aviva Stadium next September. The very staging of this legendary gig is fantastic news for people like me.
I didn't catch it last year and thought I'd missed the boat (or The Wall, as the case may be). I was on-air in Radio Nova on the night and in addition to turning green from reading tweets and texts from concert-goers, I had the pleasure of playing chauffeur to my other half – who did go – for the journey home (just call me Cinderella).
I was glad I was there to pick him up though, because his reaction was priceless. Still in awe at what he'd just seen at The O2, he could barely string the words together to tell me it was a genuinely life-changing experience.
To anyone who has never seen The Wall Live, you probably already know the show's set list is Pink Floyd's iconic 1979 double album: The Wall in its entirety. What you may not know is it's one of the biggest, most dramatic stage shows in the world.
While Roger Waters and his band plays what was the soundtrack to a generation, a giant-sized wall stretching the length and height of the stage is built, brick by brick, displaying powerful images impeccably timed to the music, until it towers over the audience by the end of the set. And next year's show is promising to be bigger and better as it's been tweaked to suit a stadium stage.
Roger Waters will be at The Aviva, In The Flesh, on September 18th 2013 for The Wall Live: a show that's billed – and built – on a massive scale. It's literally gonna be huge.
Dee Woods
Nova Nights Mon-Fri 7pm-12am
And Sundays 12-2pm