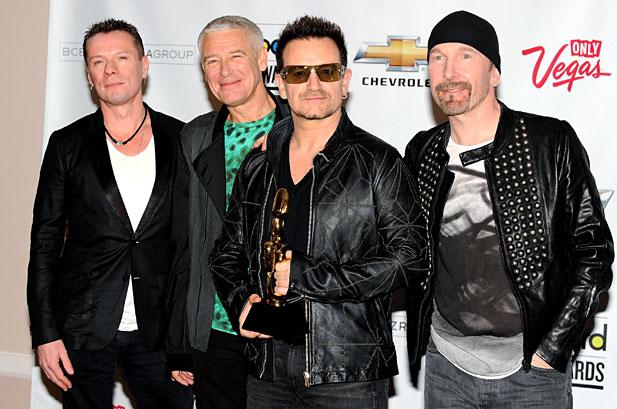 You have to hand it to U2, they've been together since the late 70s, but manage to stay on top of trends in order to still reach out to new fans as well as holding onto the ones that have followed them for the past three decades.
Rumours were rife that the lads were involved in the launch of the new iPhone 6, and confirmation came on Tuesday when the band performed live at the event in California but the real kicker was when they revealed their much-anticipated new album Songs of Innocence was immediately available, for free, on iTunes, despite the fact that general release isn't until October 13th.
This makes it the biggest album release of all time. Of course releasing the record in such a way means it's unlikely to set the charts on fire, as free downloads aren't counted in chart compilations BUT how many artists can say half a billion people have their new album? That's how many iTunes account holders there are in the world: half a billion.
And Bono & Co. aren't the first people to be tempted by an Apple (sorry, but they do like their biblical references..!) Earlier this year, pop queen Beyonce released a new album on iTunes a week before it went on other streaming sites – sales of the record surpassed a million in its first week.
Many artists are copping on to the fact that a surprise or early release of an album is practically guaranteed to increase sales and get you talked about.
David Bowie, Radiohead and Kaiser Chiefs have all benefited from blitzing their fans. Like it or not, technology is ever evolving and music has to be the same to keep up.
Gene Simmons of Kiss said this week that rock and roll "is finally dead" due to "file-sharing and downloading" but Foo Fighters hit back on Twitter with "Not so fast, Mr. God of Thunder…" I think it's clear that Rock and Roll will never die, but it does need to grow.
Dee Woods
Nova Nights Mon-Fri from 7pm
@RaDeeOh