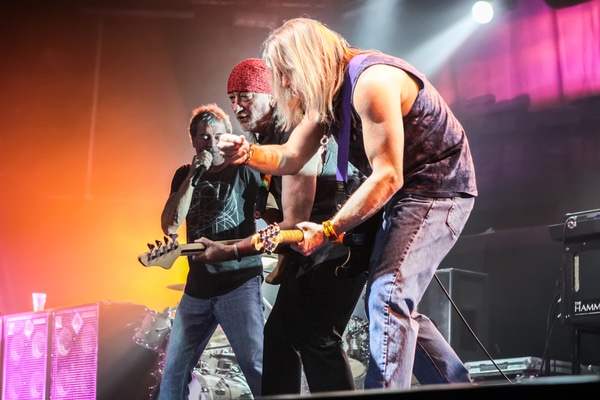 Deep Purple and Rammstein have taken to social media to show their support for the people of Ukraine.
While both bands have shared supportive messages and comdemned the Russian invasion, Deep Purple have also confirmed the cancellation of upcoming shows in Moscow and Kiev.
The band had been due to play in Kyiv's Palace of Sports on May 31, and Moscow's Megasport's Sport's Palace on June 4.
"an apolitical band"
Along with posting the lyrics from their Cold War track Child In Time on their Facebook page, each Deep Purple band member release an individual statement regarding the Russian invasion.
Band members Don Airey and Roger Glover also addressed the band's relationship with former Russian president and prime minister Dmitry Medvedev.
Deep Purple had played a "thank you" to Medvedev when he stepped down as chairman of Russian state gas company Gazprom in 2008.
"Like many performers, we have occasionally performed private concerts for fans in various countries", Glover said.
"We are an apolitical band and in no way, was our intention ever political. It was music. These days are different. We condemn Putin's military for the atrocities to innocent men, women and children in Ukraine, and we apologise to our Russian and Ukrainian fans that the shows have been cancelled. We live in hope that we can fulfil those dates in the future". 
"A different day today"
Meanwhile Don Airey also stated, "Watching the news that Russian missiles have just destroyed the Opera House in Freedom Square Kharkiv, where DP played almost exactly 20 years ago, memorable for Ian Gillan donning a tutu he found in a dressing room cupboard and proclaiming himself 'Deep Purple in Frock', for the gear arriving at 7pm and somehow the show starting at 8pm, for an old apparatchik single-handedly trying to make the young audience sit back down during the set with such zeal that he had a seizure, and next day on the way back to the airport my asking about a statue 'Is that Lenin?', Roger Glover replying, 'Well it's definitely not McCartney'.
"A different day today, I have just written to Dmitri Medvedev, former President and now head of the Russian Security Council, returning the autograph he gave me at the dinner for Deep Purple at the Gorky Palace in March 2011, in protest at his various statements post invasion". 
"it resists the shocking attack"
Meanwhile, Rammstein also released a statement in support of Ukraine.
"The band Rammstein wishes to express its support for the nation of Ukraine as it resists the shocking attack perpetrated by the Russian government", they wrote.
"Above all at this moment, we feel particular grief for the suffering of the Ukrainian people".
They added, "Each member of the band has various experiences of the two countries; all members of the band have friends, associates, partners, fans in both lands".
Rockstars far and wide have also been reacting to the ongoing situation in Ukraine. Find out more here.