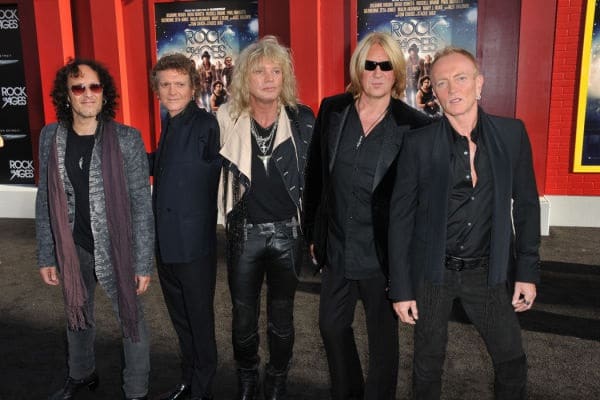 Would you like to listen to the article instead of reading it?
Def Leppard have released a brand new music video 'Hysteria' from their upcoming album, 'Drastic Symphonies'. 
Arriving on May 19, the album will see Def Leppard deconstruct some of their well known tracks.
For this album, Def Leppard have collaborated with the Royal Philarmonic Orchestra, with audio from original tapes merging with new performances between the bands.
'Drastic Symphonies' was produced by Def Leppard, alongside Nick Patrick and Ronan McHugh, with Eric Gorfain working on arrangements.
Check out 'Hysteria' for yourselves below.
The track list for this album is as follows.
01. Turn To Dust
02. Paper Sun
03. Animal
04. Pour Some Sugar On Me (Stripped Version)
05. Hysteria
06. Love Bites
07. Goodbye For Good This Time
08. Love
09. Gods Of War
10. Angels (Can't Help You Now)
11. Bringin' On The Heartbreak
12. Switch 625
13. Too Late For Love
14. When Love & Hate Collide
15. Kings Of The World
Def Leppard "veering off the expected path"
Having confirmed news of this album earlier this month, Def Leppard's Joe Elliot released this statement.
"DEF LEPPARD has always enjoyed veering off the expected path — working with the likes of Tim McGraw, Taylor Swift and Alison Krauss, for example", he said. "So, when the offer to revisit some of our back catalogue with the Royal Philharmonic was presented to us, to a man we all jumped at it". 
"Although we're far from the first band to ever do this, working directly with an orchestra at Abbey Road on some of our more orchestrated songs seemed too good of an opportunity to pass up". 
Expanding on how this collaboration came about, Joe Elliot elaborated further in a recent interview.
"We first discussed this — it was put on our plate by some grownups about four years ago. And, obviously, because we were touring, we were sidetracked", he said.
"And then with the COVID, we did the new record [2022's 'Diamond Star Halos']… It's only nine months ago now [that it came out]. We were actually under the radar. We were in Abbey Road recording this record without telling anybody. So we had it ready to go the following year, which is now". 
This comes after Joe's bandmate Rick Allen offered fans a recent update regarding his health, after being assaulted outside being attacked outside a hotel in Florda last month. More on that from Nova here.