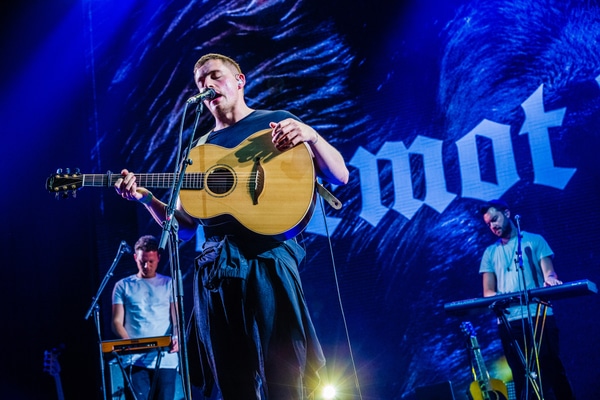 Former busker-turned star, Dermot Kennedy is outperforming other Irish artists on streaming platform Spotify, beating a host of big names. The Dublin singer-songwriter is currently outdoing fellow countrymen such as U2, Hozier, Christy Moore, The Script, and Kodaline.
Spotify revealed their most popular Irish acts in time for St Patrick's Day, with the Dublin singer at top spot. His album, Without Fear was also Spotify's most streamed album in Ireland, in 2020.
From a performance recorded last week in LA, Dermot will feature on U2's YouTube channel TODAY, as a warmup for the broadcast of U2 Go Home: Live From Slane Castle in 2001. 'That' Slane gig was recorded for DVD BUT, this is the first time it will be available for free digitally. The channel will stream some of their most iconic concerts in a new four-part series called 'U2: The Virtual Road'.
U2 made history when they became the first band to play two headline shows at Slane in the same year. The first concert took place a week after the death of Bono's father, with the second taking place the same day Ireland beat the Netherlands, on their way to the 2002 World Cup. Dermot Kennedy will open the show with an exclusive solo performance, going live at 7:30pm.
Dermot's Fellow Compatriots On Spotify's Top 10
Picture This, Hozier, Niall Horan, U2, Simon Casey, Christy Moore, The Script, Kodaline, and Westlife are the other Irish acts on the Spotify St Patrick's Day top ten list. Spotify's St Patrick's Day Poll represents the last 30 days of streaming, while top spot of most streamed Irish artist of all time goes to Hozier with 17.3 million monthly listeners
Most streamed tracks over last 30 days – Tiësto – The Business, The Kid LAROI – Without You, Paradise (feat. Dermot Kennedy) – Meduza, The Weeknd – Save Your Tears. Most streamed Internationals – Taylor Swift, Juice WRLD, Drake, Ariana Grande, The Weeknd, Ed Sheeran, Dua Lipa, Kanye West, Eminem.