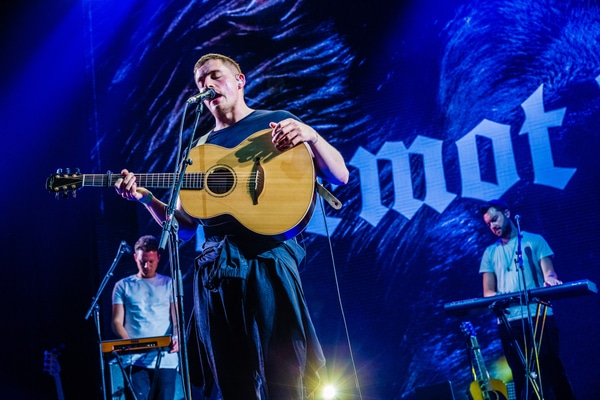 Following a number of live charitable performances at Dublin's 3Arena and the streets of New York City this month, Dermot Kennedy has raised over $300,000.
After a series of performances which ran for a week, Dermot Kennedy raised funds for charities Pieta House, MusiCares and Focus Ireland.
Kennedy surprised fans with a special busking performance at Washington Bush Park in New York City. This performance took place on December 11, and was also livestreamed via his TikTok and Instagram accounts.
The singer boasts 250,000 followers on his TikTok account.
This performance also saw Kennedy treat fans to his latest single "Better Days". A performance which you can check out below.
"One of my favourite things I've ever done in my life…. It was a beautiful energy", Kennedy said of the performance at the Big Apple. "My first time playing in the street in about 8 years. It was never like this though….".
"most fulfilling thing I've done"
The Giants singer then performed two shows in Dublin's 3Arena on December 13 and 14.
Concerts that Kennedy called "the most fulfilling thing I've done in my career yet… So much love that I cannot get into a caption".
All profits from these shows were split between Pieta House and Focus Ireland.
Pieta House is a non-profit organisation with suicide and self harm crisis centres, while Focus Ireland deals with homelessness.
Following these shows, Kennedy shared this via Instagram, "This will help so many people who need it. It may even save some people. Thank you so much for playing your part. You raised all this money from buying tickets and donating, I just facilitated it. Our country is small but mighty, and when we come together special things happen. Thank you so much".
Dermot Kennedy had announced plans for these gigs back in November.
Talking about these shows at that stage, Kennedy said, "I'm so grateful to be playing two shows in Dublin this December in aid of Pieta and Focus Ireland, two incredible charities. Suicide and homelessness are two issues that are sadly so prevalent in Ireland today".
He also added, "There are so many people that badly need our help, especially at this time of year. Please think of them and let's come together and raise as much money as we can for these extremely important causes".