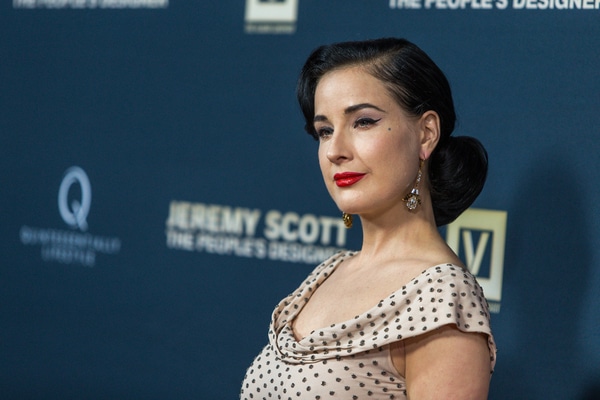 Marilyn Manson's ex-wife, Dita Von Teese has spoken out on abusive allegations made against the rocker. Dita, who dated Manson for six years prior to a year of marriage, declares the reports "do not match my personal experience".
Evan Rachel Wood accused Manson of being abusive during time with the star and posted her allegations of abuse against the rocker on Instagram. She wrote that Manson had been "grooming" her since she was a teenager and added he had "horrifically abused me for years".
In a short statement on her Instagram page, Dita claims she left Manson due to infidelity and drug abuse. The burlesque star began by saying she has been "processing the news that broke Monday regarding Marilyn Manson".
"To those who have expressed your concerns of my well-being, I appreciate your kindness," Dita wrote. "Please know that the details made public do not match my personal experience during our seven years together as a couple. Had they, I would not have married him in December 2005".
Dita continued by saying there is no place in a relationship for "abuse of any kind" and has urged those who have incurred abuse, "to take steps to heal and the strength to fully realise yourself". She finished by saying this would be her "sole statement" on the matter and thanked people for "respecting this request".
The statement comes after a host of other stories and allegations have been made against Manson and Dita wants to share another perspective. Manson has since been dropped by his record label Loma Vista Recordings, cut from making cameo appearances in two TV shows and a host of celebrity acquaintances of Manson have shared their views, and stories on the matter.
Dita follows another of Manson's former partners, actor Rose McGowan. The Charmed star shared a video on Instagram this week, with a profound apology "to those who have suffered the abuse & mental torture of Marilyn Manson".
"When I say Hollywood is a cult, I mean the Entertainment industry including the music industry is a cult. Cults protect the rot at the top. Theirs is a sickness that must be stopped. The industrial fame complex chooses who they protect & who they'll let be their victims. For profit."