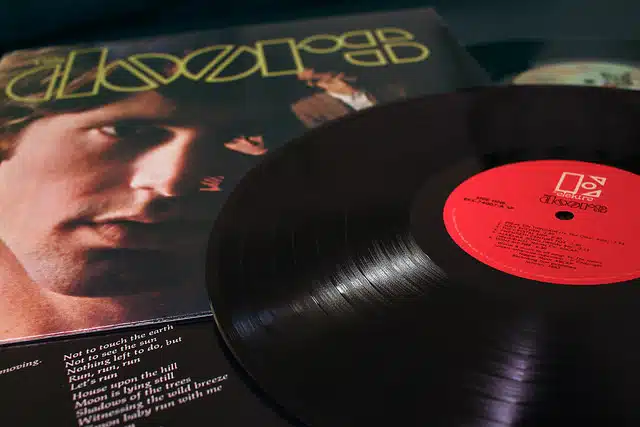 The Doors was the debut album by the Californian band of the same name. The self titled album was released on 4th January 1967.
The Doors was founded when UCLA students Ray Manzarek and Jim Morrison met through a mutual love of jazz and poetry. The line-up was completedby guitarist Robby Krieger and drummer John Densmore. The band started
to clickafter gigs in the London Fog and the Whisky a Go Go where they honed their skills before going into the studio.
The band went into the Sunset Sound Recording Studio to turn their elongated jams into tight-knit pop songs. The band and Morrison in particular, had become infamous for their live performances and had the task of trying to put their eccentric nature on record.
Morrison's lyrics were also a problem as lots of the songs were expletive-laden or had drug references.The most famous example on the 12 minute epic 'The End' where Morrison goes into extreme detailon the Oedipus complex, swearing numerous timesnear the end of the song. Their record label, Elektra Records, were afraid that many radio stations wouldn't play the songs and so tried to reign in the band and Morrison.
Despite label concerns, the album was successful thanks to the singles 'Break On Through (To The Other Side)' and 'Light My Fire'. The album helped make the Doors one of the most famous acts of the timewith 5 million records sold in the US alone. The band received praise from critics with the album being voted 42nd on Rolling Stone's 500 Greatest Albums Of All Time.
Track Listing:
Side One:
1 – Break On Through (To The Other Side)
2 – Soul Kitchen
3 – Crystal Ship
4 – Twentieth Century Fox
5 – Alabama Song (Whisky Bar)
6 – Light My Fire
Side Two:
1 – Back Door Man
2 – I Looked At You
3 – End Of The Night
4 – Take It As It Comes
5 – The End