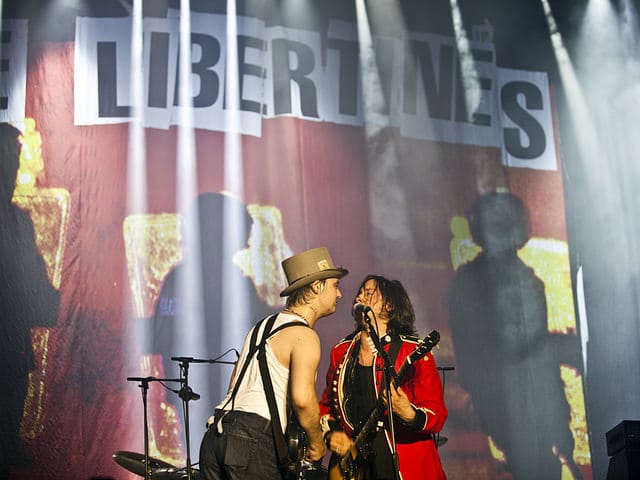 The Libertines have revealed that the name of their upcoming album is Anthems For Doomed Youth. The album will be 12 tracks in length and it will come out September 4th via Harvest.
The first single off the album is 'Gunga Din' and it will be premiering this evening. It is the band's first album in 11 years, with their self-titled second album coming out back in 2004. The band confirmed the news on Facebook saying "Dearest one and all, the day has finally arrived, to announce the unveiling of the new Libertines record – Anthems For Doomed Youth."
They continued by saying "We do so with the utmost pride and jubilation. She (the record) will be available on the 4th of September." They then annoucned that their new song 'Gunga Din' (previously thought to be 'Gunga Gin') will premier on Annie Mac's Radio 1 show tonight.
If you buy the deluxe edition of the new album you get four bonus tracks 'Love on the Dole', 'Bucket Shop', 'Lust of the Libertines' and '7 Deadly Sins'. The Libertines recently played a surprise set at Glastonbury, filling in for Florence who headlined the Pyramid Stage.
You can check out The Libertines new album artwork here and the full tracklist is down below.
'Barbarians'
'Gunga Din'
'Fame and Fortune'
'Anthem for Doomed Youth'
'Heart of the Matter'
'Belly of the Beast'
'Iceman'
'You're My Waterloo'
'Fury of Chonburi'
'The Milkman's Horse'
'Glasgow Coma Scale Blues'
'Dead for Love'
Photo Credit: scannerFm