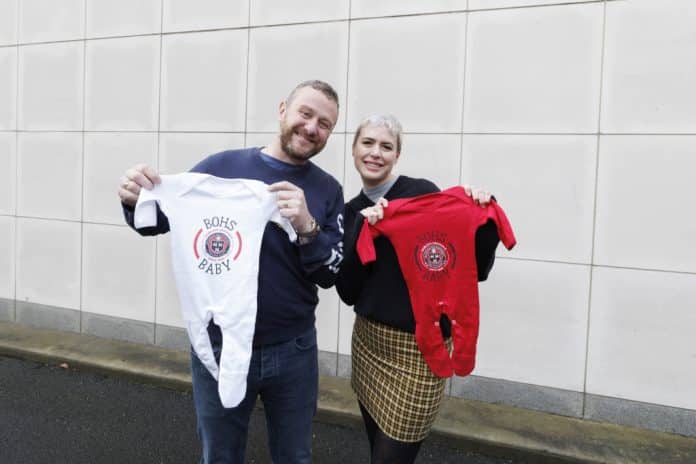 PJ Gallagher shared exciting news this morning on Radio Nova.
The Morning Glory co-host revealed to his on air partner Jim McCabe that he and his partner Kelly Doolin are expecting not one but TWO babies, yes twins!
Kelly, 33 originally from Boston Massachusetts, now living in Dublin for the past 12 years is three months pregnant and PJ and Kelly expect to be welcoming their two bundles of joy in late August / early September.
Working in Dublin as a scientist, Kelly met PJ through their love of the Bohemian FC.
CLICK HERE TO WATCH THE ANNOUNCEMENT 
"I came in one morning and I said, 'Jim, you're not going to believe it. Me and Kelly we're having a new version of ourselves, this is a baby on the way. I'm becoming a dad,"PJ told Jim.
"We went to the doctor again because the first time we went and we saw the baby and we were like, 'No way, look there's an actual…there it is, woo that's real.
"Then we went back the second time. See they didn't see, there were actually two of them so we're having twins. So we're actually having twins – we're having two of them, a boy and a girl, holy fart. There you are now.
"We are delighted, so it's gas. It's terrifying but brilliant."
Kelly also joined PJ & Jim in studio and explained, "My folks haven't met PJ in person yet and I guess they didn't know too much about PJ so I was a little bit nervous, particularly to tell my dad that I was pregnant. He's just a protective father because I think the only things they knew about PJ was that he'd been in a mental hospital pretty recently and that he had a big fight with Conor McGregor on Twitter. But my dad took the news well, thank God."