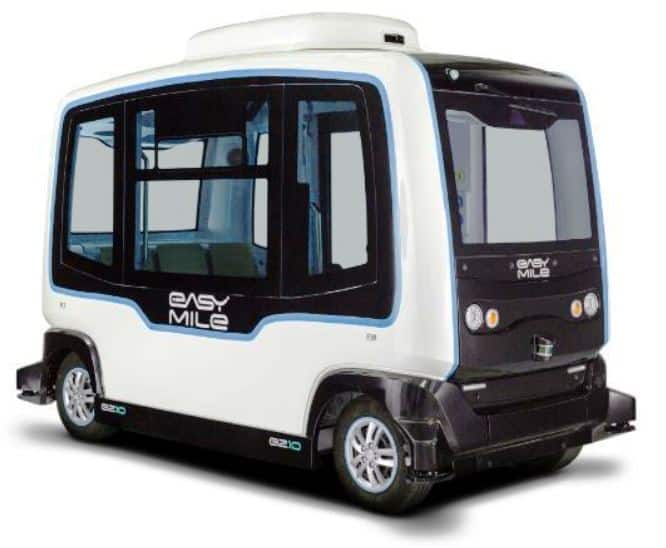 Ireland's first driverless shuttle bus has made its debut on the streets of Dublin.  The electric EZ10 can carry up to 15 people and will be trialled along a one-kilometre route in the Docklands.
Reaching up 25kph, the unmanned transportation device is designed to make it easier and quicker to get around the city.
Members of the public will be able to get a glimpse of the future and test the technology on Saturday outside the Convention Centre as part of Dublin's Smart Docklands project.
Developed in 2014, the EasyMile showcases autonomous vehicle technology.  It features a built-in access ramp for passengers with reduced mobility as well as cameras, processors and sensors, and integrates with existing traffic.
Using GPS and artificial intelligence to operate, the bus can read road signs and sense cars and cyclists on the road.
Neil Cunningham, chief executive of Civic Group said:
"There is currently no legislation in Ireland that will allow fully autonomous vehicles on the roads so that law needs to change and it will.

"We are looking at setting up some test beds with University College Dublin in order to prove the technology, and once it's proven, which will take three to five years, and legislation is passed, then we will be able to put them on the roads and integrate them with other vehicles.

"We want to show the public what it's about, to touch and feel it and understand that this is what is coming down the line and not to be afraid of it.

"Take one journey on it and you will be convinced.

"At the moment people who can't get to their workplace using public transport bring their car, so the idea is it will pick people up in certain areas and bring them to bus terminals, and a larger bus will bring them into the city and then the EasyMile will then take them on their last mile.
Clement Delbouys, a spokesman for the French company that developed the shuttle bus, said the idea is to operate the first and last mile for the public.
"We have designed the vehicle so it can be accessed by lots of different people including the elderly, disabled or people with luggage.

"It's to increase the mobility of everyone – this is to try and get people to use more of public transport instead of their own private car.

"The bus knows at every moment where it is and its environment."
Jamie Cudden, Smarts programme manager at Dublin City Council, said it will help cities around Ireland run more effectively.
"We see this playing a real role in cities like Dublin as we are trying to move away from cars in cities," he said.

"We are excited to give people a glimpse of the future.

"This is happening around the world, the technology is real and ready to go. We just need to figure out how to adapt it to Dublin."
It's here! Ireland's first driverless shuttle has arrived in The Docklands. If you'd like to take a ride in it, there are still some tickets available at https://t.co/ijL4RqeryU… #SmartDocklands @smartdublin @CivicGroup @connect_ie @DubCityCouncil pic.twitter.com/KPqzfS2zDu

— Smart Docklands (@SmartDocklands) September 21, 2018