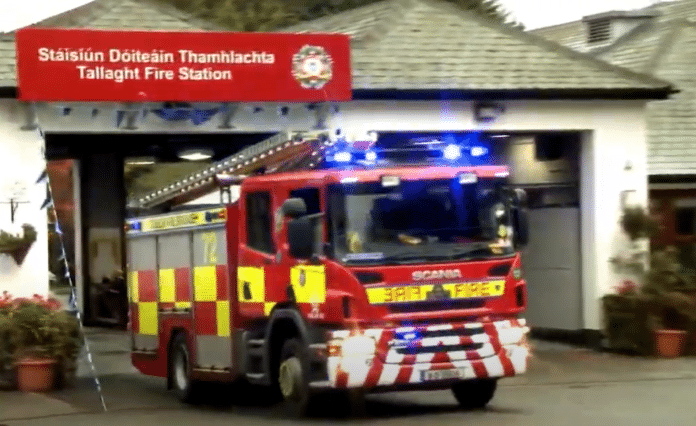 A car park in West Dublin was forced into an evacuation after a car burst into flames of almost 500℃.  Dublin Fire Brigade were called to the car park in Tallagh yesterday evening. They fought the blaze in smoky conditions. 
It is pleasing to report that nobody was hurt, following the blaze.
After the blaze was put out, some interesting photos of the fire were posted on Dublin Fire Brigade's social media. This included one photo of the car's body work burning through a thermal camera.
Dubline Fire Brigade said, "Three fire engines have dealt with an underground car park fire in Tallaght tonight".
"A prompt evacuation led to no injuries being reported".
They added, "The temperature of the vehicle was recorded approaching 500°C. Visibility was severely impacted". 
Dublin Fire Brigade Warns:
DFB also issued another recent warning to anyone using electric blankets on these cold winter nights.
With the weather getting colder, it is possible that more people will turn to the cosy blanket for warmth. They can also be a safety hazard. Several incidents were reported of the blankets catching fire over Christmas.
DFB said recently, "The weather is cooler and electric blankets are being used".
They added, "Recently, firefighters from North Strand fire station were called after a electric blanket went on fire".
Nobody was hurt. But, it did prompt some firefighters to offer some advice on Twitter on the correct use of electric blankets.
They stated that it was important to do the following.
Replace electric blankets after 10 years
Check for any frayed wiring
Do not use if badly creased
DFB last night, also tweeted a warning about lighting fires at home for fireplaces.
They tweeted, "We're facing in to some of the coldest nights of the winter so far. It is tempting to light up the fire for that little extra heat".
They added, "You should only do that if you are confident your chimney is clean and in good condition. Firefighters extinguished this chimney fire last night".
See here for more news from December on Dublin Fire Brigade.