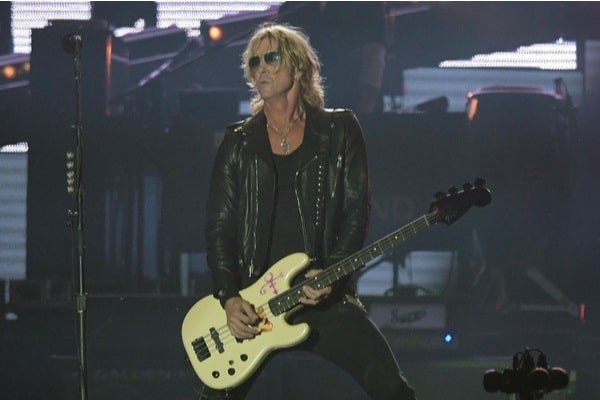 Would you like to listen to the article instead of reading it?
Duff McKagan has released a brand new 3 song EP in aid of Mental Health Awareness month.
The Guns N'Roses bassist has been raising awareness for this cause, whilst sharing his own personal issues with mental health.
The EP This Is The Song, also includes the title track, along with two others songs 'It Can't Come Too Soon', and 'Pass Me By'.
You Are Not Alone! Thank you everyone for listening to This Is The Song EP on the first day and for supporting Mental Health Awareness Month. For more information visit https://t.co/P6oHQseH0z#duffmckagan #songssavelives #MentalHealthAwareness pic.twitter.com/8P8ZDJklE8

— Duff McKagan (@DuffMcKagan) May 10, 2023
"couldn't see straight"
Speaking about the EP, Duff McKagan also revealed that the music was written while he was having a "panic attack".
"This Is The Song was written in the middle of a panic attack", McKagan also stated. "I couldn't breathe and couldn't see straight, and lately, I have thankfully found my acoustic guitar as a refuge. If I just hold on to that guitar, play chords, and hum melodies, I can start to climb my way out of that hole". 
The Guns N'Roses bassist also added, "For those of you who have never experienced something like this, count yourselves blessed. To those of you who recognize what I am talking about: You are not alone!".
McKagan On His "panic attack"
McKagan's mental health issues can be traced back to his teens, having suffered his first panic attack when he was 16 years old.
Back in 2020, McKagan also spoke to Lily Cornell, the daughter of the late Chris Cornell of how such struggles led to later problems with alcohol and drugs.
At the age of 50, Duff McKagan kicked alcohol and drugs into touch, but later admitted that he had still been struggling with depression.
"Instead of a panic attack it was this extremely morose downward spiral," stated McKagan. "Panic attacks are a symptom of depression". 
Giving a nod to martial arts and meditation, Duff McKagan has added that Guns N'Roses getting back together has also played a part in his recovery, while paying tribute to bandmate Slash.
"Guns N' Roses get back together and the relationships are wonderful. We're communicating as grown men, and it's like 'This is perfect. I'm sober. I get to experience this thing again as a grown man and really appreciate what's going on, appreciate how good Axl is, appreciate how good Slash is…", he revealed.
"Slash has kind of been a safe person for me throughout this," he said. "I met him when I first moved to LA. I told him I have these panic attacks. He listened. He's like, 'Okay, well, if it happens, we'll deal with it.' I had plenty around him, and he knows just to talk to me about something – anything but the panic attack. He'll start talking about, 'Hey, that first Led Zeppelin record, did you notice they went into a-' whatever". 
It was also confirmed that Guns N'Roses would headline Glastonbury this Summer. More here.
May marks Mental Health Awareness in the US (and 15-21st May is Mental Health Awareness Week in the UK).