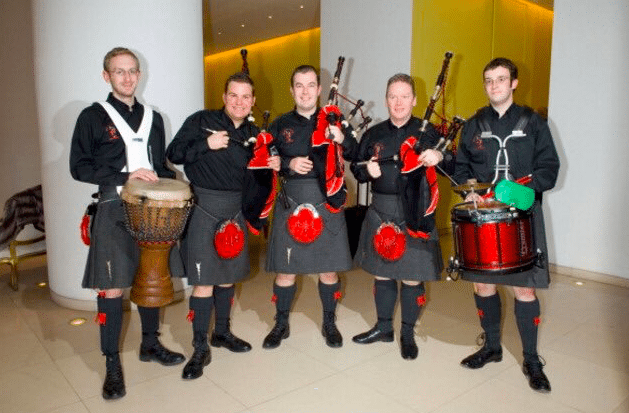 Have we got a story for you. This should give you a chuckle.
Duncan Robb, a Red Hot Chili Peppers fan, got a surprise last weekend when he realised that tickets he bought, were in fact not to see the actual Red Hot Chili Peppers. Rather, he had mistakenly bought tickets to see the 'Red Hot Chili Pipers' instead. Brilliant.
'Thought I'd got a rate good deal on tickets n'all. Had a nightmare.'
Robb bought the tickets as a Valentine's gift for himself and his girlfriend, but on inspecting the support acts last weekend on February 10th, the penny began to drop. Of course, it wasn't Robb who discovered the mistake, it was his girlfriend!
To make matters worse, the RHCP bagpipe tribute band proclaim to be 'the world's best bagpipe band'. Robb apparently paid £30 each for the tickets.
Still can't believe we've flown over to Belfast not for the @ChiliPeppers but to see the 'worlds best bagpipe band' @chillipipers … thought I'd got a rate good deal on tickets n'all. Had a nightmare pic.twitter.com/YO72amVR4I

— Duncan Robb (@Dunc_Cfc) February 10, 2018
Robb spoke to 'Storyful' about the huge, but hilarious mix-up.
'When I clicked on and got tickets in row Q and for £30 each, I thought 'what a bargain, there must not be many tickets left' and snatched them up straight away. Also, I saw the date was February 10, so I could make it into a Valentine's Day weekend — kill two birds with one stone.'
'It was only until the Wednesday before when my girlfriend wanted to know who was supporting. She couldn't find anything about the Red Hot Chili Peppers performing in Belfast.' 
The couple still went to the show, and Robb documented the 'experience' on Twitter:
For anybody interested in what the Red Hot Chilli Pipers sound like (and for the angry "didnt happen" mob ) here's a video from our seats x pic.twitter.com/gIoymZ3xGW

— Duncan Robb (@Dunc_Cfc) February 13, 2018
Maybe this will give the Red Hot Chili Pipers the publicity they need to come to a town near you. We'll be sure to let you know. Just make sure you read the title of the article right, or you could be off to the real Chili Peppers! (As if you'd want that)
The Pipers themselves saw the humour in it all.