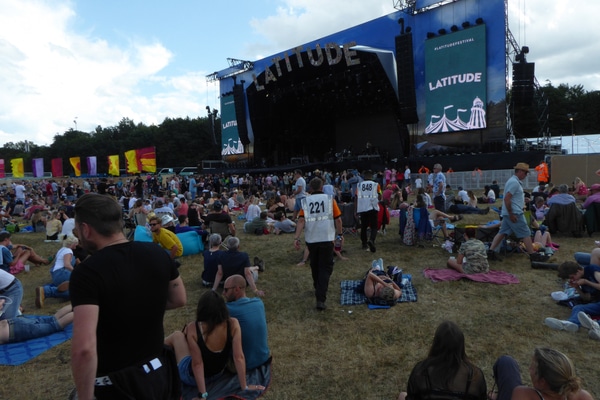 Government figures have confirmed that over 1,000 Latitude Festival Attendees have tested positive for Covid-19. The festival took place the week after the UK government removed all Covid restrictions on gatherings.
Results have also shown that 37,000 people attended the festival each day from July 21-24. Despite the entry requirments , 432 people were likely to have been infected with the virus.
Held in Suffolk, the event was organised as part of the government's Events Research Programme. Everyone who attended the gigs had to provide proof that they were fully vaccinated or a negative lateral flow test.
In the days after the event, 1,050 people also caught the virus. Government figures have also suggested that 619 people contracted the virus around the time of the festival.
"considerate of others" 
Suffolk Public Health director Stuart Keeble is thrilled that people can start to attend events in Suffolk again. But he insisted it is important that people still continue to adhere to public health guidelines.
"As Suffolk reopens once again and people attend busy events or attractions, it's important that people continue to be considerate of others", he said.
He also urged people to "wear a mask or keep their distance where appropriate".
Cultural secretary Oliver Dowden has also said that the data obtained from the Events Research Programme shows that "we can reintroduce mass sports and cultural events safely".
It is "important that people remain cautious when mixing in very crowded settings", he added.
Further festival data
Meanwhile, health officials have also confirmed that 4,700 people who tested positive for the virus confirmed that they attended the Cornish festival, which took place between August 11-15.
It was attended by 50,000 people. Around three quarters of those positive cases are aged between 16 and 21, with 800 living in the county.
It was also reported that almost 5,000 positive cases were linked to this year's Boardmaster's Festival.
Meanwhile in Ireland, Electric Picnic promoters have urged the government and Laois County Council to reconsider its decision to refuse granting a licence for this year's festival from the Chief Medical Officer. 
Laois County Council have already refused to grand the event a licence, in a decision based on "the most up-to-date public health advice made available to the Council by the HSE".
More on that here.
Check out Electric Picnic's statement on this decision here.