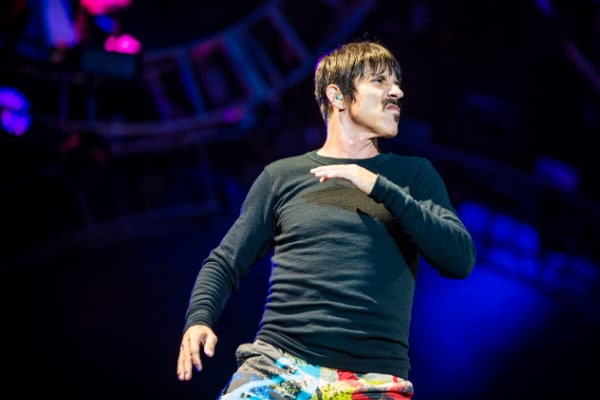 Would you like to listen to the article instead of reading it?
Red Hot Chili Peppers' Anthony Kiedis spoke to his bandmate Flea about his lack of confidence when it comes to having the job title of lead singer.
This topic of conversation came up when the pair spoke on the bassist's podcast, This Little Light.
The podcast sees Flea speaks to various musicians across all genres about their careers, and "discuss the teachers who guided them, the influences that inspired them" and more.
This podcast was launched by Flea back in March, with the first episode showing him chatting legendary producer Rick Rubin and others.
"we were both kind of in tears"
Speaking about his favourie interviews from over the years, Flea claimed that the chat he had with Anthony Kiedis, left the pair "in tears".
"A really good one was with Anthony. We were both kind of in tears because I'd never talked to him about stuff like that", Flea said.
He continued, "Anthony doesn't really consider himself a musician or that he's had any music education whatsoever. He used to say we should change the band's name to Idiot and the Three Geniuses".
"And people would be down on him, you know? Eddie Vedder's up there like f****** Pavarotti, but the resonance is different with Anthony".
"He's got melodies"
On Kiedis as a singer, Flea stated that his bandmate continues to go from strength to strength as a singer, and is improving all the time.
"I think he's a great singer. And he's always learning and getting better. When we started the band, he couldn't sing a note — he just yelled", Flea explained.
"Now he's got melodies, and he doesn't even stick to them. He flows around and improvises. Look, I know who the great singers are: Kurt Cobain, Jim Morrison, Roger Daltrey. But for me, all I care about with any musician is that a person sounds like themselves. And nobody sounds like Anthony Kiedis".
As for Red Hot Chili Peppers, the band have been busy in recent times, having released two albums last year, with former guitarist Josh Klingoffer feeling they are creating "cooler music" without him. More on that here.