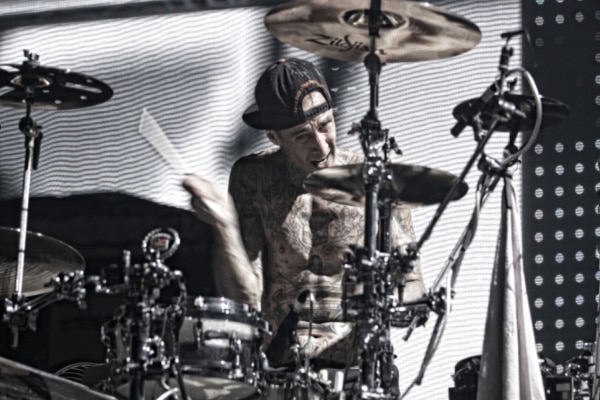 Travis Barker has been rushed to hospital over a pancreatitus, according to reports.
The Blink-182 drummer had been rushed to hospita,l after the condition flared up during a colonoscopy.
Barker had been taken to West Hills Hospital. He was later transferred to Cedars-Sinai Medical Center earlier this week.
Earlier that day, Barker had tweeted the words, "God save me".
It was unclear as to whether the drummer was referring to his health, or his music. He had collaborated with Machine Gun Kelly on a track called 'God Save Me' earlier this year.
Barker's daughter Alabama had also asked people to keep him in their "prayers", in a since deleted TikTok video.
Travis Barker's representatives have still yet to comment on the situation. The drummer is married to model Kourtney Kardashian.
Barker's health scare comes just a few months after his Blink-182 bandmate Mark Hoppus announced that he was "cancer free". More on that here.
Barker's New Reality Series
Back in March, Travis Barker had announced plans to work on a new reality series called 'Inked And Iced'.
This series was to see celebrities receive full body tattoos, while simultaneously receiving dental implants.
The series featuring Barker had also been described as  being "about self-expression, the human body as an art canvas, capitalism, eccentricity and entrepreneurship". 
Barker was to join forces with Bullish Content and This Is Just A Test Media.
Aengus James from This Is Just A Test Media had this to say. "Travis is a genius. It's the kind of out-of-the-box programming that Paul [Lima] is tremendous at developing". 
Paul Lima from Bullish Content also added, "We're thrilled to be following Travis and this innovative business as it launches and grows".  More on this from Nova here.
Back in January, Travis Barker also released a rocky cover of Adele's track 'Easy On Me'.