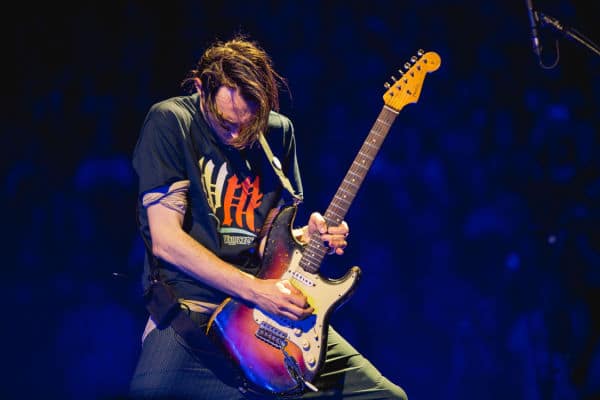 Would you like to listen to the article instead of reading it?
Former Red Hot Chili Peppers' guitarist Josh Klinghoffer has claimed that the band had been creating "cooler music" when he was part of the set up.
Having joined the band in 2009, Klinghoffer served as a touring member, following John Frusciante's departure.
He recorded two albums with Chili Peppers including 'I'm With You' in 2011, and 'The Getaway' in 2016, before being asked to leave the band following Frusciante's return in 2019.
Red Hot Chili Peppers released two albums 'Unlimited Love', and 'Return Of The Dream Canteen' last year.
"cooler music"
However, speaking on the Brazilian podcast 5 Notas, Josh Klinghoffer feels that the music being produced by the band does not measure up to what they produced when he was a touring member.
"I don't think I finished [listening to] the second [2022 album, 'Return Of The Dream Canteen']", he said.
"I was trying to cram it in once before leaving on a plane, and I got as far as maybe the ninth song, and I don't think I listened to the rest". 
Klinghoffer also reffered to some unreleased material prior to his exit from the band in 2019.
"It's tough [listening to their new music], only because I honestly think we were doing cooler music," Klinghoffer claimed. "I never want to sound negative about anyone doing music, but I was shocked when I heard their new record". 
Despite collaborating on an album 'A Sphere In The Heart Of Silence' in 2004, Josh Klinghoffer also stated that he has not spoken to former bandmate Frusciante recently.
"But I've always maintained that I still have an enormous love for him," Klinghoffer insisted. "He's one of my favourite musicians; one of my favourite writers". 
He also refused to rule out working with him in the future.
"I feel like it would be fun to play some of those songs again, or play them live – we never played them live", he said.
See the full chat here.